1. Hi so at first can you told us anything about your band, members, work, hobbies etc…?
We started around March 2005. We had never played in a band before, just were involved in puting some gigs and shared a common interest in oi! Music and the skinhead culture. The first line up was me (Nèstor) on guitar, Pablo on drums and our first singer "Gitano". Later on Vega joined with the bass. Gitano left the band and I had to take on vocals also. Some months ago Santi entered the band as second guitarist, so now we are a 4 piece band. Pablo is 29 years old and owns a typical Spanish bar so don't miss it if you come to Valencia! You may find us there eating and boozing haha. Vega is 27 and he works at a family business, I'm 27 too and working in a part time job serving meals to school kids. I did study Economics at university so I hope to find a better job but things look quite bad today in Spain. Santi is 27 and he's now unemployed and has started studying again.
2. How did you met each other and put together a band? Do you play in different bands beside Glory Boys? I think that Nestor plays in Mercancias…is it true?
Pablo and Vega live in Valencia and I'm living in a town very near, Santi is from a small village like one hour away so he was not hanging around with us at weekends, we just met him at gigs and football.
As far as the bands we've played, Pablo, Vega and me were playing in a side project, it was called Gol Nord and was a hool rock'n'oi! Band to support out firm, Força Llevant from Levante UD team. Besides that I also played guitar and drums with Shaved Dogs for some time and as you have guessed, I now play guitar with Mercancias. I like to be involved in many projects as you can see haha.
Santi has played in some bands like the HxC band "Linea de Fuego" and nowadays plays in the oi! Band "Join the Rejects" who are going to release their first MLP very soon, check them out!
3. Your album Skinhead Resistance is one of the best ones which were released this year…how was the recording?
Well the recording was finished before summer 2008, and I really think it could have sounded much better, we are not completely happy with the result, but anyway people seem to like it. If we release anything else we will take care of most of the production so the sounds gets closer to what we are looking for. We think the first EP had a better overall sound.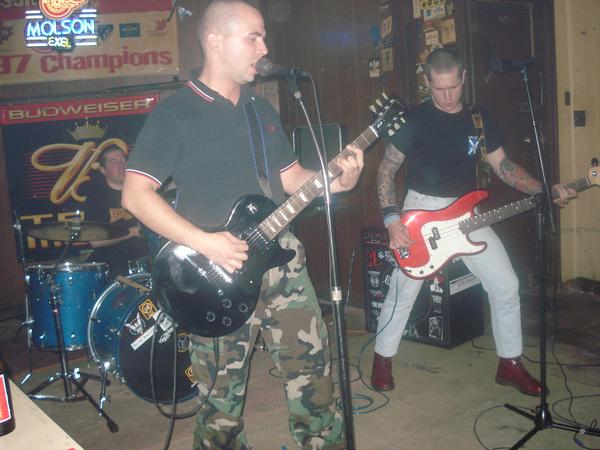 4. How look like scene in your country, city? I read somewhere that some skinhead was killed during fight is it true? Have you got problems with political wankers from both sides?
The scene in our country, at least the one that we really think we are part of, is close to none. Here in Valencia there used to be good oi! gigs some time ago, but there were some problems and things went worse; some of us were involved in organising gigs and after all the hard work, losing money because some idiots don't know how to behave really sucks. Our bassist keeps puting some gigs but they are not so frequent. We usually meet the same people from everywhere in our gigs so we are like a bunch of friends and always have fun. There are some festivals but they keep bringing the same bands every time, and they are the most commercial ones.
Regarding bands, here in our region we've got besides us Join the Rejects, who are going to release their first MLP very soon on Crowbar Records and then Mercancias, who have put a 12" of four songs with Shout Proud Records and are going to put a 7" of three songs very soon on Randale Records. Other bands that could fit in the oi! scene or likely could be Hate Edge from Madrid and Bulldozer from Barcelona. There are not many skinhead oi! bands in these days. In the Basque Country there are lots of bands, many young people involved, but they tend to sound more like punk rock, there has been a boom of bands of that style which we don't follow very much.
About the skinhead killed, it was a very young guy, don't really know if he was skinhead or not. I think he was only 16. It was because of political reasons, he was going to confront a right wing demonstration with other antifas and met with a right wing guy in the metro and this one stabbed him on the chest, I think that's crazy but if you go into these subjects and fill your mouth up with killing, chasing, fighting your political enemies you can end up in these sad situations. We are not into these things.
Regarding the problems with the political wankers, we've been critizied by all sides, for the left wing we are fence walkers, nazis, etc. And for the others we are sharps. Just the same bullshit. We don't care about the ideas of everyone as long as they respect us, we care about persons and how they relate and behave to us. As a band we prefer not to mix politics with the skinhead cult, we have our own views on every subject, and have songs that deal with social topics but we are not following any political movement. We have never played for any political organization and never will, that's what we always stick to.
5. From Valencia come many good bands like Riot Squad, Last Warning, Glory Boys, Mercancias or Shaved Dogs. Do you have any explanation for that fact?
I think the main reason is because the people involved listen to a lot of music and focus on this aspect of the "cult", if you are used to listen to different styles and bands then you have broader influences and can be more critic about your work so you don't put out any rubish that you make in the fisrt place. Other bands that are very narrow minded and only listen to the same bands keep sounding the same and lose all originality and quality. Also every generation has had older bands from Valencia to be influenced on since the 80's so we have followed the tradition.
6. Are there differences between gigs in Spain and abroad? Do you have problems with organizing gigs in your town? And do you have something like your club?
As I said before, there are not much gigs here. In Europe, at least in some countries, the scene is much bigger and there are very good gigs and fests, and people go there to enjoy music and not to gossip and fight each other,
We've never had problems organising gigs here, but there were more venues available in the past than are now.
Don't have any club just for us, we are very few nowadays in Valencia, but we count on our friends from other places to come and gather a good crowd.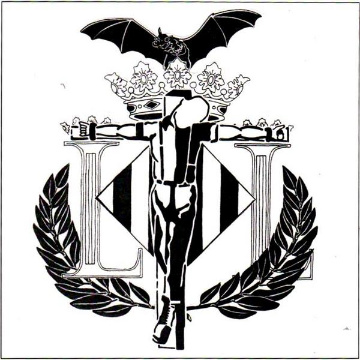 7. What is your opinion on fight for autonomy of Catalonia and Basque country? Is ETA real big probem? I know that lefties are more for independence and right wing more for integrated Spain.
I will answer this question based on my own opinion as it way differ depending on which member you ask to. I respect the right to every people to decide about their future, I think that a common language, culture and ancestry conform what we could call a nation. So in Spain we've got a problem because there are many "nationalities" and the way the country is organised leaves some people unsatisfied. There's also a problem of respect, people from different parts of Spain hate each other and are constantly argueing about nationalist issues; I think if there's no respect for the differences there will always be nationalisms here. There are people from these "nationalities" that I talked before that feel that their language and culture are being swept away due to government intervention, in the past mostly but also nowadays, and also due to inmigration. So it's a big issue. Here in Valencia we also have our own language and common past and ancestry, and the way I feel is that is being lost so I take a defensive nationalism about that. What I would like is that we could find a way to respect each other cause all these figths what only do is confront the people and that's just what the elite wants. I think most of these problems, just as terrorism, are pushed from the government to divert people from the real issues.
8. Are there problems with immigrants and immigrant policy?
Immigration is pushed by the ruling elite to disrupt the integrity and cohesion of societies, they want these problems you talk about to start between locals and foreigners and they make laws that make that easier to happen. It's social engineering at its best. So for me the main problem is the establishment, I don't blame someone who has nothing to eat for coming here to look for a better living, my grandparents had to move to France in the 60's to work there for some time so they were inmigrants too, they worked hard, respected the people who gave them that oportunity and when they could they came back. In those days it was controled and immigrants could integrate in the society and even become in some time proud citizens of their new country. But the multicultural mess of today is not sustainable. I realize also thay they have been pushing muslim immigration in Occident for taking advantage of the confrontation of religion and culture so people are willing to support the war on terror agenda and swallow all the lies about muslim terrorism, I think you can guess who benefits from that.
9. Are you visiting football matches? And are you fan of CF Valencia or Levante?
We used to be part of a firm called Força Llevant but it doesn't exist anymore. We supported Levante UD, which is the oldest team from Valencia and has Valencia CF as its main rival. The firm ceased to exist mainly due to fines from the police and a fall in commitment from some members. In Spain there's a lot of repression against firms by the police and the system.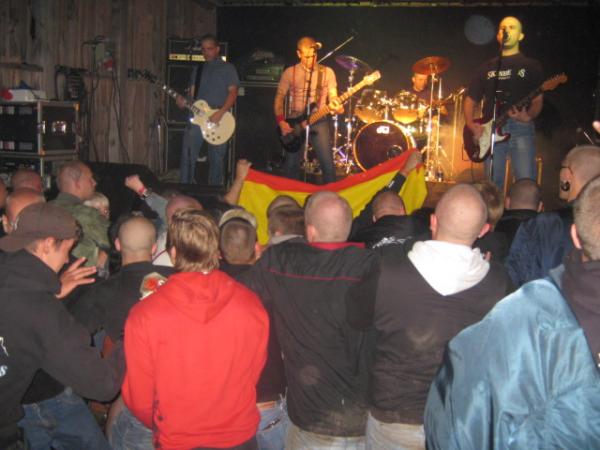 10. Do you know any bands from Czech Republic?
Of course! Orlík is one of my favourites, I also like the early stuff from Zona A, the fisrt album "Potopa" is a great one and we covered the song "Cervena armada" with Gol Nord, we changed the lyrics to football ones. I also fancy the stuff from The Protest, very good band indeed. I remember about a band called Patria who weren't much known I think. Then Operace Artaban, Pilsner Oiquell, Disdainful, The Riot,etc. There seems to be much more bands nowadays than in the old times...
11. What are your requirements for the gig? What should we do if we want you to play here in Czech?
We just ask for the flight tickets to get there, some beer and food and a place to sleep. If possible, we like to attend to a football match from the team of the city (or the team from the organization in case there are more than one haha). We like to keep our name as the "drunken elite" so we need boozers to be side by side wih us at the pubs, I think that won't be a problem there in Czech Republic, as you are the number one country drinking beer right?
12. Plans for the future?
We are having hard times with the band right now, as jobs and study for some of us don't leave time to rehearse as much as we would like to. We hope we can deal with the situation and keep on with the band. If possible we would like to put out a new 7", maybe sang in Spanish with two new songs and one cover. It's very possible that we collaborate with a song to a Condemned 84 tribute.
13.Last words…
First of all we would like to thank you for your interest and support. It woul be great to visit your country and check that famous beer so if anyone is interested in puting a gig for us there don't hesitate! Greetings to every Czech skinhead!
- GLORY BOYS SKINS, THE DRUNKEN ELITE –
Questions by Okoun, translation by Peddy.