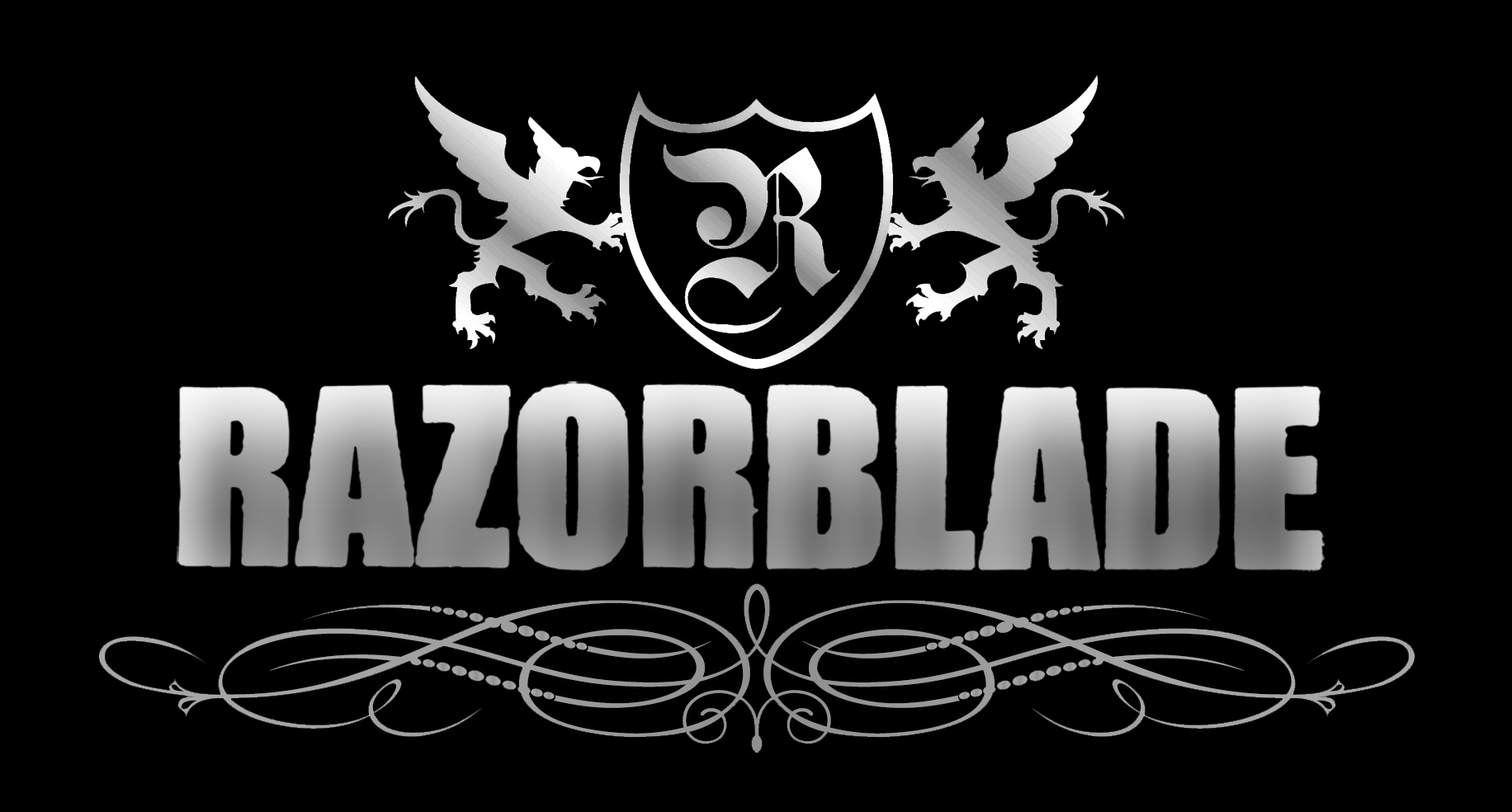 1. Hi so at first try to introdukce your band, members and tell u show you know each other.
Razorblade started in 2001. We released 4 albums, 3 ep's, a best off record and a cd –single till now. Our fifth album and a new ep is coming soon. We played about 70 shows in the Netherlands, Belgium, France, Germany, Czech Rep, Switzerland and Finland. Ruud (drums) and me (vocals/guitar) are the original members from the first line-up. After our 3rd album in 2006 we split up due to a lack of motivation and inspiration.
Two years later we got back together and our good friends Noot (bass) and Rudo (lead guitar) joined the band. We all played in other bands before and that is how we know each other.

2. When and why came decission to start Razorblade and why that name? Did any of your members play in any band before and have current members some side projects instead of Razorblade?
Before Razorblade I played guitar in a band called Squalor (streetcore). I started Razorblade to focus more on oi!/streetpunk music. The idea was to make clear, simple, hard as nails street music with a minimalistic touch. The name "Razorblade" fitted perfectly in this concept.
Ruud played in Short Fused (HC) and Bronson Death Wish (HC) before razorblade and is currently playing in Fehler (metal). Rudo plays in the Cenobites (psycho) and has it's own band called "The Stealers" (rock / rock n roll). Noot played in Insert Coin (HC), For The Fame (HC) and New Morality (HC) before he joined Razorblade.
3. You have 4 albums out and 5th is coming soon. Which of them you like most? You also changed English into German language on last two EP´s and on coming album, why?
I think each record has some strong songs and some weak ones. I like the songs on our last 3 ep's the most personally. On the new album we put more time and effort in song writing and production. The album is finished now and I must say it is already my personal favourite. It has more melody, more mid paced rock influences and some massive singalong choruses.
We recorded a German single (die jungs/ hart wie stahl ep) in 2010 to thank the German guys for their support over the years. The ep was sold out in 1 week and we never got so much reactions on our music as on those German songs.
Also after 10 years of Razorblade i wanted to do things a bit different. Writing lyrics in German automatically changes the overall sound of the band and it gave me much inspiration so we decided to do a whole album in German. There are many Dutch celebrities who have made a career in Germany but never a Dutch underground band did a whole German album.
4. Your new album Gegen die Masse will be out in May...make some advertisement on this pieces?
Like I said we really put a lot of time and effort in this one and I think you can hear it. We did our best to make a high quality streetrock release packed in a cool looking digipack.
The sound on the album is very diverse: there are some cathy rocking songs on it and some slow, very brutal tracks. We also added some more melody in some of the songs and the vocals and we focussed on writing more singalongs. We did a cover of my favourite german band Vogelfrei (Stiefeljungs) and at the end we put a sample track out of 1947 in which a dutch music group sings about oi! And explains the word, very old and cool track.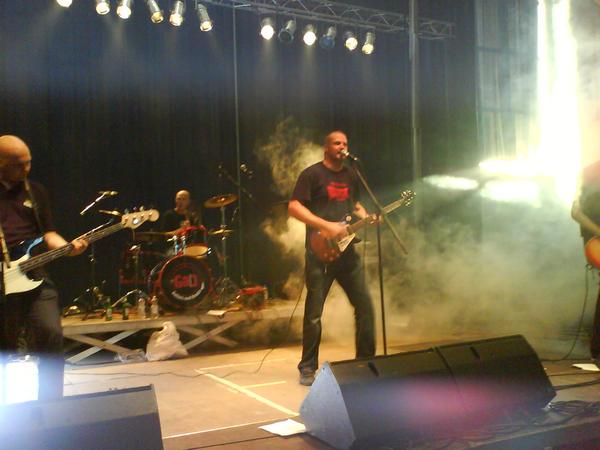 5. Your stuff was released by Pure Impact, then by your label Rebellion Records and now by Bandworm...it is better to have record label or do it on your own one? And were you satisfied with all labels?
In fact all Razorblade CD stuff is released on Rebellion Records, apart from the "best off" on Step 1 records. Bandworm is doing the razorblade releases on vinyl. Only the 2nd album was released on CD by Pure Impact because I did had no money at the time to do it myself. The release on Pure Impact caused us some trouble and internet bullshit, Pure Impact is also into RAC and Razorblade is a band that want to stay away from politics, so it was better if I had done it on Rebellion.
The new album will be on Rebellion records (the vinyl on Bandworm). Step 1 did our first ep and the best off. It is cool to have different labels from different countries promoting the band.
6. You are running Rebellion Records label and distribution...it is full time job I gues....tell us something about it...
I started out with Rebellion Records besides my job as a driver at TNT post. Later on I started the Rebellion webshop and last year I opened a rebellion instore shop in the city of Tilburg.
The last years it became very hard to sell cd's with the label due to downloading and the economical crisis. I have switched my focus now on the webshop and the store in Tilburg and only do a release on rebellion records only twice a year (I used to release 15 albums each year).
I can live from it now but it is not easy, there is always bills coming in then there is money. Working hard just to survive, but it is a dream to work for myself with the music I love and I will keep fighting the rest of my life to keep this going! Luckily i have many friends and supporters that help me out with Rebellion and Razorblade, and that's the cool thing of being in this scene. People from all over the world helping each other out and making it happen!
7. Who is making music and lyrics in your band and what are your musical influences?
I write the songs and the lyrics. I am influenced by rock bands like: Motörhead, Rose Tattoo and AC/DC. By Hardcore bands like: Sheer Terror, Negative Approach and SFA. And ofcourse by a great deal of oi! / streetpunk bands like: Condemned 84, Business, Retaliator and all the classic bands. For the new album we took some influences from Böhse Onkelz, Troopers and Vogelfrei too.
8. Many good bands come from Holland nowadays, can you describe the scene in your are? Some new breed bands worth hearing, clubs, pubs, zines...
Lately a lot of new bands popping up in the Netherlands which is a good thing, but old long going bands are still the best: Evil Conduct, Tech 9 and Badlands are my favourite Dutch bands. Because there are so many new young bands, and a lot of older bands still going strong as well I have decided to release an "Oi! Made in Holland part 2 CD" hopefully at the end of this year. The days that every oi! show ended in a fight are over and the pubs and venues are booking oi! bands again. It's a good thing!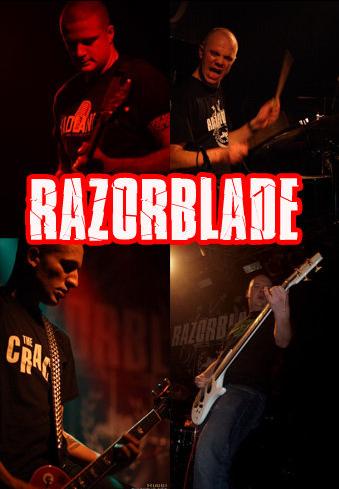 9. What is your oppinion on free drug policy in your country?
Only soft drugs is legalised. It's a good thing else it would be in the hands of criminals. Every one can decide for himself what's best for them, the less government dictations the better.
Smoking weed makes you stupid and lazy, so I don't say you must smoke weed, but i am just saying people can make their own decisions. With hard drugs it is different ofcourse
10. You played three times in Czech republic...how do you like it there and you compare gigs here with the rest of Europe?
We noticed that the Czech scene is very alive and lots of guys are involved with zines, bands, booking shows, labels, shop, webshop etc. really a DIY scene which is great!
We were welcomed with open arms all three gigs we did in Czech rep. We have made some good friends and met many people who are just like us. We really feel at home in Czech rep and also for us it feels like a small holiday. There is so many nice bars and pubs and good beers. When the new album is released we definately try to come back!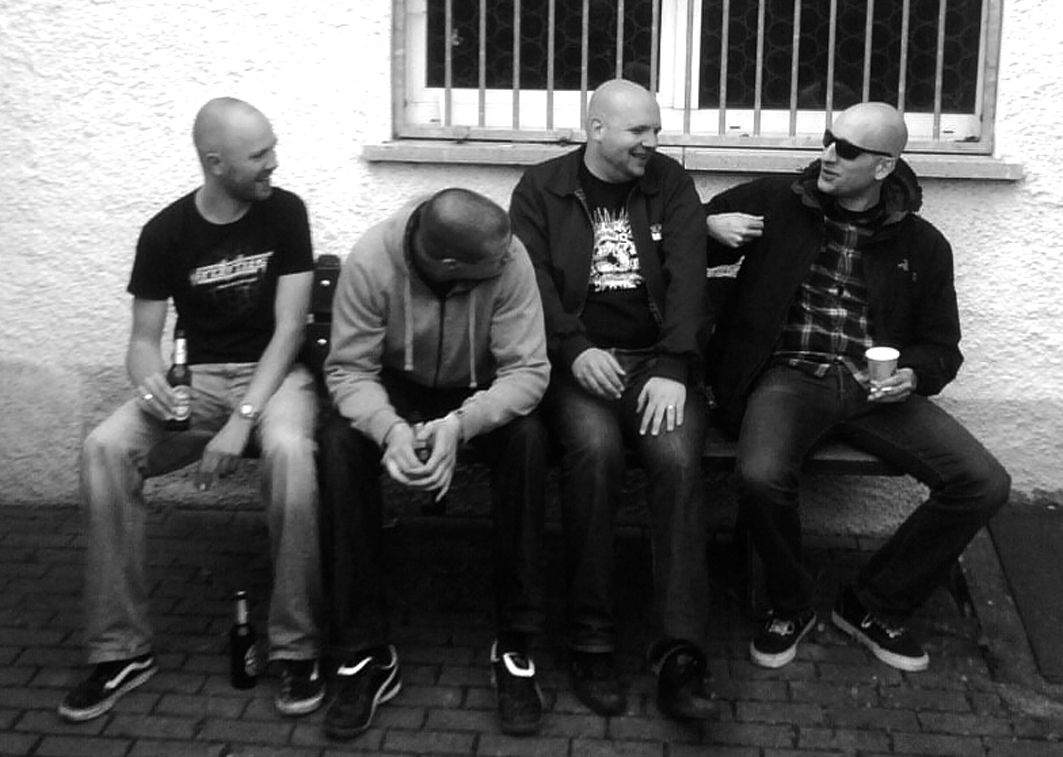 11. Plans for the future...
I just became a father so that takes most of my time now. It also means we must plan our gigs more careful. We do some fests in Germany to promote the new album and for the rest we will see. Street Justice Records is releasing a new split ep with two new English Razorblade songs and two songs from the folk/oi! band Suckered In (USA).
12. Last words...
Cheers to all our friends over there! You know who you are! Thanks for supporting our band over the years, it means alot to us!
Hopefully you like the new album. We have some links to Razorblade media packed here:
www.gegendiemasse.de
.