1. At first can you introduce your band, members (age, hobbies, work), and tell us how you met each other?
At this time we are considering a new line up. Only two of us remain from the original Line-up: Guillem Romaní. Lead guitar and voice. 25. Waiter. Historical tourism, sports, beer, cinema and music. Guillem Ciuraneta ( "Ciura"). Bassist. 27. Wood worker. Music, motorcycling racings and drinking.
New members Ferran. Drummer. 25. Hospital orderly. Drinking & football. Àngel. Rhythm guitar. 24. Mafia films and sports.
2. When and why came decision to start a band and why did you choose the name Reconquesta?
Ciura: The band started as a project between Romaní and me. From the 1st time we met we realized we shared the same thoughts on pretty much everything that has to do with oi! music and the skinhead lifestyle. We both agreed that there aren't bands in Catalonia that remind us in sound and attitude to the great old oi! Bands from the early and mid 80s. We don't have bands talking about our beloved land anymore and so that was our goal, to take a patriotic stance for the love of our country. As some of the old bands we love we don't stand for any political Ideology in particular. However our lyrics don't just cover patriotic themes we also have songs that have to do with our reflections on life and the skinhead way of life.
Romaní: We did choose the name "Reconquesta" for basic reasons: When something is taken from you, you have to take it back. You have to fight to recover it. That's the way we feel about our country. However the same idea could also be applied to defend our rights as human beings, our dignity etc… The song England belongs to me had some influence in me when I choose the name for the band.
3. Have your members some previous experience in playing in different band?
Ciura: Of course! Our old drummer Uri has played for some years with other local Hardcore and Punk Bands. Romaní is now playing guitar for The Upset along with members from widely known bands like Bulldozer and Secret Army. Our new drummer Ferran plays for another Catalan oi! Band called "Destral de Guerra" (Battleaxe). Àngel has played in local hardcore Bands.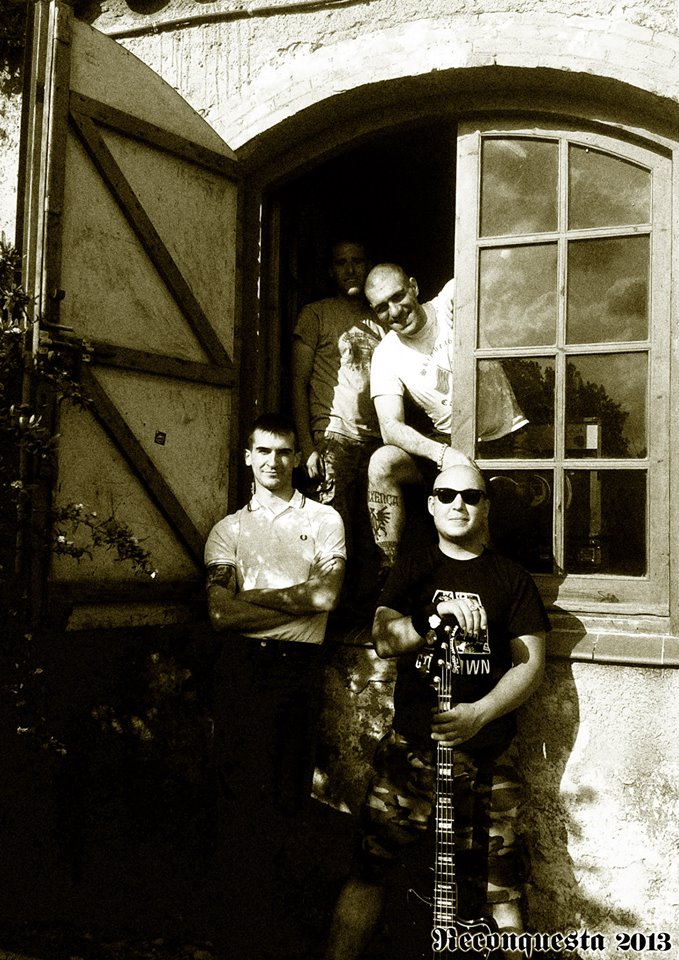 4.You have out single EP and now full length, can you introduce little bit your music, lyrics, etc...?
Ciura: Our music combines many styles. Some songs would remind you to the classic 80s OI! I was talking you about before and some other songs have a more punk rock vibe.
Romaní: We just play Oi! Music with a pissed off kind of vibe. I'd describe our sound as raw and powerful with a lot of guitar distortion and some rock'n'roll riffs. We definitely take a hard stance in every topic we cover in our songs but never forgetting to add a touch of humor in some of our lyrics.
5. Both releases were done on vinyl, do you prefer vinyl instead of the CD´s?
Ciura: OF COURSE!!! We do prefer vinyl way before CDs… the Vinyl format has many advantages over CDs in terms of sound, presentation, aesthetic et. However CDs are ok to reach all those poor wretches that have turned their backs on analog devices… There are high chances that our LP will come out in CD as well. Just for you to sing along while driving your car hahaha.
6. Also both releases were out through Disco Nightmare and See You Records....can you tell us more about those labels which I did not know?
Ciura: Both of them are small record labels ran by two close friends of us who have a lot of experience on the subject. I have to admit that if it wasn't for them everything had been more difficult. The fact that we are all friends makes it easier when it comes to debate any issue concerning the record.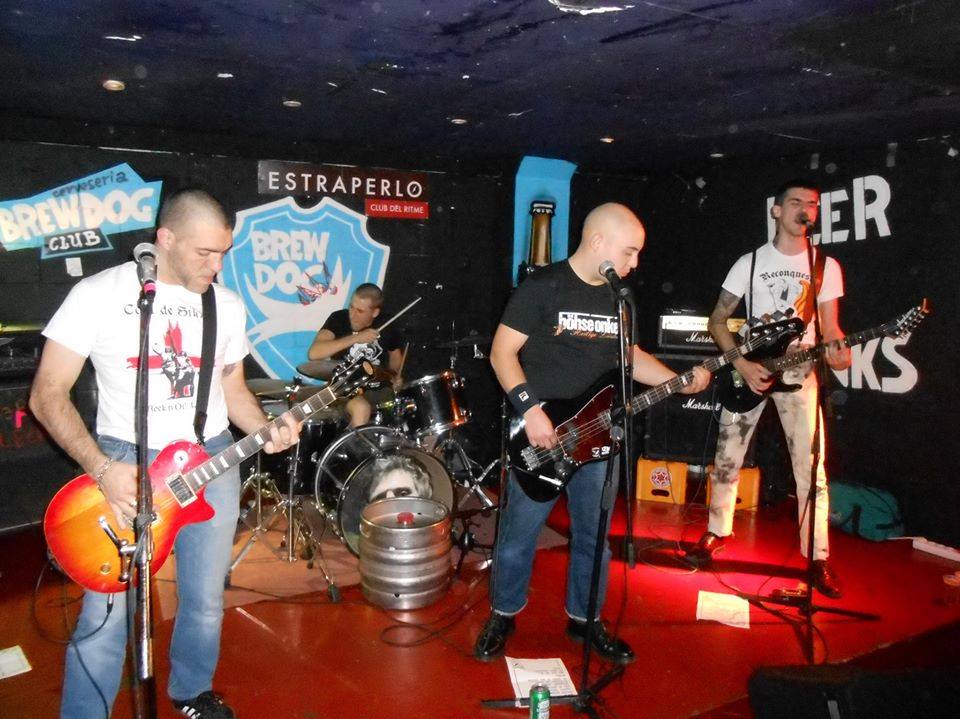 7. You sung in Catalan language...can you tell us something more about differences between Spanish and Catalan language and also about these nations like fight for Catalan independence, etc...?
OK, to begin with there is no such thing as "the Spanish language". Spanish is properly called Castilian. Both the Catalan language and Castilian come from the mother romance language Latin and so there are a lot of similitudes between them. But at the same time we will also find many similar features between Catalan and other Indo European Languages that derive from Latin such as French or Italian. As strange as it may seem our language shares a lot of features with Rumanian. But again it is also because Rumanian is an Indo European language that derives from Latin.
As for the Catalan Independence question, it is a complicated issue that we could be debating for hours. To sum up, I'll just say that some of the cultural and economic problems that we have right now come from the fact that we are a dependent state and we don't have complete control of our autonomy. In most of the countries of the world democracy is rotten to the core… we are just another example. Those who received the legacy of the dictatorship still rule Spain but we cannot forget what's going on in Europe now. Europe is going through a process of globalization that will severely harm each of our countries and cultures. The Idea that we all should be under the same government and share the same economy will destroy the smaller countries. Every small country in Europe should fight not to be wiped from the map. Europe should remain as it has always been, a continent composed of many countries with different cultures. If some of these cultures are destroyed, the bonds of the European will be broken. If it happens the different cultures that unite us will no longer exist and it will be easier for a global government to control us. We must fight against standardizing states such as the Spanish as well as Capitalist Globalization.
8. What are your musical influences - do you prefer older or new breed bands?
Ciura: Long story short our main influences are: Pilseners (great Catalan band form the 90s) Ultimo Asalto and Combat 84. We are mainly influenced by old breed bands but we love more recent bands such as Retaliator.
9. You came from the city Sant Sadurní d'Anoia..can´t you tell us more about your hometown (from tourist and skinhead tourist point of view)?
Ciura: Actually, we come from different towns: Sant Sadurní d'Anoia, Manresa, Terrassa and Barcelona. Our country, Catalunya ("Catalonia") does not cover a large tract of land so you can visit a lot of stuff in a few days. If you came here I would recommend you to try our Mediterranean cuisine, our wine and our beer. We don't have any particular place or venue where all the skinheads meet. However you can find shows and skinhead parties from time to time.
10. You played with Condemned 84...can you describe it? I heard that it was in some basement of pizzeria? Why? Were there some troubles because of the gig?
Ciura: I've been listening to condemned since I was 13- 14 years old and now I'm almost 27 so you can get an idea of how much of a big deal was for me to play with them… It was such an honor. The rest of the band mates feel like me. To be exact the concert was carried out in a private venue of a Lebanese restaurant hahahaha!! The reason why such thing happened is simple; there are too many assholes in our beloved land. Catalonia is full of politically correct freaks that see Nazis everywhere. Sadly It is a difficult thing to organize a concert in a normal venue with some of the mid 80s Oi! Bands. The concert was carried out without problems of any kind and a part from the fact that we could not play in a normal venue everything came out well. No one came to spoil the show or to cause trouble It was a night to remember!
Romaní: You are not a true oi! Band until you play with Condemned.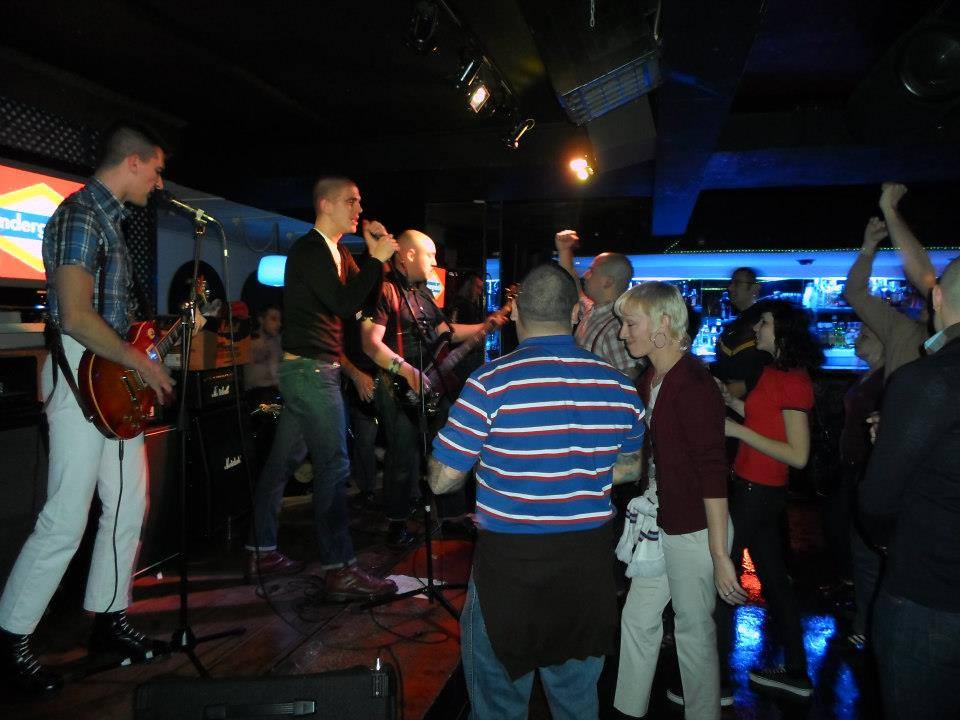 11. And what about the gigs in general in your area? It is difficult to find a place for playing for skinhead band? Do you like playing live?
Ciura: It is definitely very difficult for Oi! Bands like us to find a place to play. There is no one interested in helping us, there are almost no bands that we can share stage with and there are no venues that allow us to play. There are tons of great shows of punk and Hardcore happening in Barcelona but when it comes to oi! It's just the opposite. The skinhead scene in Catalonia is very reduced and the same bands that used to play 10 years ago are still playing in the few skinhead gigs that happen during the year. However when a skinhead show takes place the venue fills up. There is a lot of guys that hung up their boots during the 360 days of the year. The 5 days remaining they put on their boots and call themselves skinheads…lame. We have played 6 shows in the past 4 years and 5 of these 6 gigs were organized by ourselves. I guess you get a sense of what the situation is. I love doing gigs, if it was for me I would play every weekend but the situation is pretty fucked up. We are sure that everything would be different if we played punk rock and we dealt with many of the topics of our songs from a left-wing point of view. Here, people care more about the shirts that you have in the wardrobe than your real values in life. The whole thing is SO LAME. However we know very well our goals as a band and we don't give a fuck if we are in this alone.
12. Where can we order your stuff?
Ciura: You can order our LP at seeyou.editions@gmail.com or thedisconightmare@gmail.com. You can also order it at (www.dailyrecords.es). Where you also will find our shirts.
13. Do you know anything about Czech Republic?
Ciura: I've been following from many years bands like Vlad, the Bulldog Empire, The Protest, Disdainful, Operace Artaban, Buldok, Orlik... I don't know much about the country. I've read a bit about Czechoslovakia and it's later separation from the Soviet Union. I honestly would love to visit your country and learn a bit more about your people. Sadly I don't have much free time or money so it makes it very difficult.
Romaní: I know the Bootboys Are Back festival. We'd love to play there! I've just heard nice things about Prague and I'd like to visit the city very much.
14. Plans for the future...
Ciura: We'll be playing in Stockholm on April 30 and we have another gig in Viterbo, Italy on the 6 of June. Recently a suggestion to play on the other side of the Atlantic was proposed but we are still debating it. We are already working on new stuff. Hopefully we will recorder 5 or 6 songs in the next months.
Romaní: Someday I want to record a full length of covers sung in Catalan.
15. Last Words....
Ciura and Romaní: Lots of thanks for giving us the chance to express our thoughts in this interview. Despite of the fact that we sing in Catalan people is much more interested in us out of our country so we could not be happier. Thanks for helping us spread the word. It has been a pleasure to answer the interview.