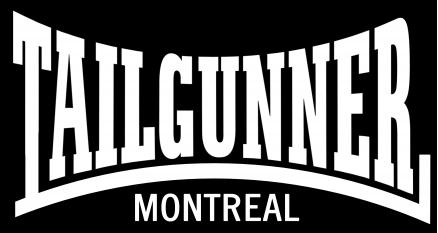 1. Hi so, can you tell us brief history of the band, members, hobbyies, age, work etc...?
TailGunner is four friends that came together to play the music they love. The band formed in 2009 with Steve, Danny and Pat, three old bastards in our late 30's and our guitarist Jourdain who is the young blood of the band in his 20's. We are working class boys with working class attitude. We all have our own personal hobbies but outside of that, our main focus is currently on the band which is more like a lifestyle to us.
2. How you came to decision to start a band and why do you choose the name Tailgunner? Did any of your band members played in any different band before Tailgunner?
The name TailGunner came to us as we were brainstorming a new name for the band as we were originally called the Watsteland Knockouts. One of us mentioned Tailgunner and it sort of just stuck. As far as other bands, our drummer and bassist have played in two very successful bands in the past. Danny was the front man for the rockabilly band Alley Dukes and Pat was drummer of Canadian physcobilly band the Gutter Demons. Both bands played for several years and adopted an extensive fan base. We are proud to have them as part of TailGunner and lucky to have such experience on our side..
3. You have got great sound, melodic guitar with no booster and not rough vocal, similar to some songs of Badlands but with more punk rock and rnr touch..so what are your musical influences?
Wow... Too many to list but we are definitely influenced by Old school punk rock and 80's Oi with a definite Rock n Roll flavour. We want to create a sound with catchy anthems that people can relate to while striving to maintain a sound that is uniquely ours.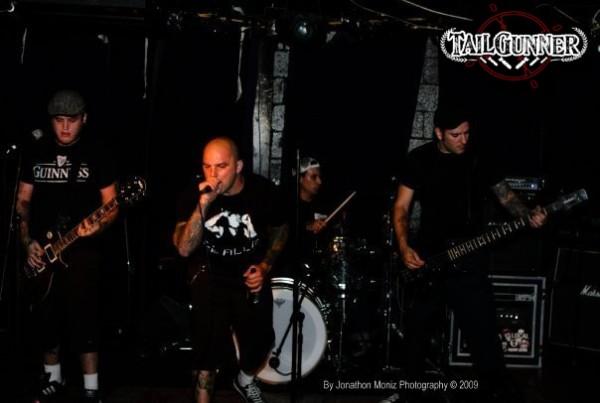 4. What about the lyrics and music, who is responisble for them? And what about your first hatemail (don´t care aboutr that bullshit) about Drinkin´and Drugin´ lyrics, what are this song about?
The music and lyrics are a collaboration of the band. Everyone has some input at some point along the way. Our aim is to write songs that speak of our own experience and is influenced strongly by the scene of the city of Montreal we all grew up in. The song Drinkin & Drugin was written about the perils of excess. People can chose to embrace the song as an anthem or as a depiction of the negative aspect of addiction. The main point of the song was to tell the story of how easy it is to forget what is important to you when you are consumed by the drinking and drug culture.
5. What about some releases? I know you were in contact with my friend from 4 subculture records, so are you planning any cooperation?

We were in contact with 4 subculture but haven't made any plans yet. We are currently recording a 16 track album which we are very excited about. Currently we have a 5 track demo which we offer at shows. We expect to put out a good quality cd with awesome sound.
6. How was the scene in your city? Many good bands come from Montreal like Coup de Masse or Bootprint, so can you recomand us any other bands from your area? And what about the gigs, how many do you played and with whom?
mainstream music. There is many great bands in Montreal and it is not unusual to see a good mix of rockabilly,physcobilly, punks & skinheads at any number of shows. It wasn't always so, there used to be a lot more division between the different scenes and politics was often the cause behind many clashes. There is far less tension nowadays which has lead to a growth in the scene. I have been around the scene for over twenty years and it seems that different scenes have their highs & lows. It seems as though there is resurgence in the scene every 7 to 10 years, this is defiantly a good time for Montreal. We have yet to play with Bootprint or Coup de Masse but share mutual friends and will most likely play with them somewhere down the road. So far we have opened for several bands from out of town and are we are now starting to headline some shows both in and out of our own city.
7. What about the laws in Canada, are they so strict like in US(I mean no smoking in venues or no drinking in city streets)?
Yeah, the no smoking law! Damn! Ya know, it used to really bother me seeing as how I grew up smoking in bars but you do get used to it. Montreal is actually a fairly liberal city as far as laws on public drinking and many police turn a blind eye to people smoking dope in the street. Personally I don't give a fuck what people do as long as it's not in my face. I have a young daughter and it pisses me off every time I take her to the park and find dirty needles. I was far less tolerant when I was younger and definitely took part in policing my own city which surprisingly doesn't earn you a lot of friends. haha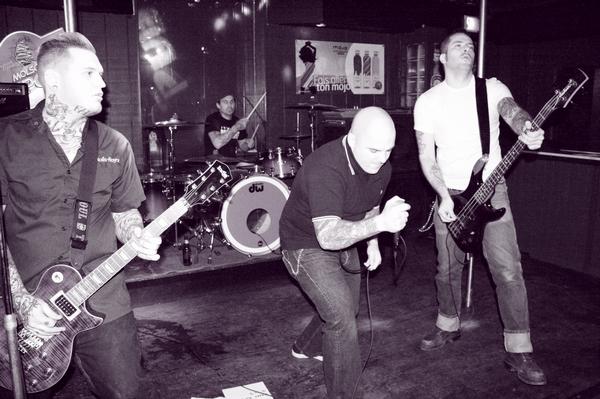 8. You are fuckin´ covered in tattoos, so what are your favourite motives?
Our tattoos are representational of different times in our lives. Some were inspired by music but many were based on life experience and brotherhood. Speaking for myself I can tell you that tattoos were far less socially acceptable when I got my first. These days, many people look at tattoos as a starting point for conversation. The way I looked at it when I was younger, Tattoos was more of a warning sign telling people to stay the fuck away or cross to the other side of the street. But ya know, times change.
9. Do you know anything about Czech republic and scene here?
We are actually pretty ignorant about the Czech scene but have known that the European scene has always been better connected and looked after its own compared to North America. I was actually in Czech Republic many years ago and know it to be a beautiful country with good beer and beautiful women!
10. Where can we buy your stuff like t-shirts, cds, pins..etc...?
Well the only way you can get something currently is to be at one of our shows and pick up a demo or a t-shirt. Once the album is released we will plan for better distribution and probably have access to purchase on our website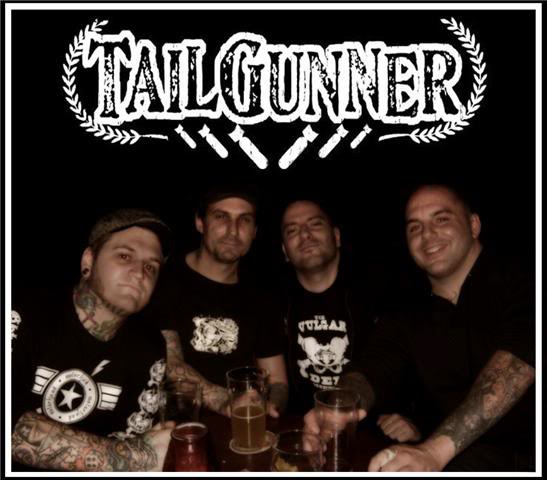 11. Plans for the future?
For now the plan is to release the cd and do some touring. When the summer is over we will start working on more songs for the next cd. Until then, we plan on having as much fun as we can.
12. Words on the end...
Thank you Peddy for the interest you've shown in the band and for providing this forum allowing bands like ours to get our name out, it is much appreciated. We look forward to getting out your way in the future for some gigs and a few beers! All the best and keep on listening to those songs from the street!
Steve- TailGunner (www.myspace.com/tailgunnermtl)