1.Hi so, can you tell us brief history of the band, members, hobbies, age, work etc...?
Hi Peddy, here we go:
-Hannes(Guitar), Harry(Drums) , Schmottey(Vox) and Koppel (Bass) started the Band in January 2001...
-8 months later we've played our first gig...
-more gigs...
-in October 2002 we recorded a Demo-Tape...
-more gigs...
-In the Beginning of 2003 Hannes and Harry left the Band due to musical differences...
-March/April 2003 Basti (Drums)joined the Band, also Zdenka, Koppel's Girlfriend , joined Spy Kids on Bass (She never played an Instrument before, but learned really fast)...
-Koppel changed from Bass to Guitar...
So, since March/ April 2003 Spy Kids are:
Zdenka: Bass, 29 years, Salesgirl, hobbies: playing Bass, going to gigs...
Basti: Drums, 29 years, Postman, hobbies: playing drums
Schmottey: Vox, 26 Years, automation service operator, hobbies: Spy Kids +spy kids +spy kids....organize conzerts in the Boot Boys Weimar club, booze, booze+ smoke!
Koppel: Guitar, 33 years, out of work, hobbies: playing bass and guitar, graphic designs, recording and mixing music, going to gigs and stuff like that...
2. How you came to decision to start a band and why do you choose the name Spy Kids? Did any of your band members played in any different band before Spy Kids? And next question..it seems that every German band has girl on bass like Mummys Darlings, Donars Groll, Roials...and you also...have you got some explication for that? And even bass player from Roials and yours have Czech name(Katka and Zdenka haha) so can you told us anything about her origin if she don´t mind?
The main reason we started with the band was bloody fucking boredom ;]. We thought Spy Kids (which means Skinhead in some areas in Great Britain back in the days) would be a cool name for our Band...to many German bands with "Oi!" or "Sturm" in the band name, you know ;)?
Yes, Basti played in a Band called "Garagenterror" before he joined Spy Kids.
Haha, yeah, there are some bands with girls on bass, but i think every country has some bands with girls on bass or other instruments...Haircut, Reazione, The Veros, Pilsener Oiquell...and what about the girl who played in Disdainful ;]? ...No, i have no explication, but i think it's easier to choose your girlfriend to play bass then to search and search some guy...it's (for us) a good choice, i live together with Zdenka, so i can show her every time how to play a Song...
But i want to see a lot more girls playing in a band, it looks (most of the time) better then some ugly guys, haha...
Yes, Zdenka was born in Mariánské Lázně , but her parents went to GDR when she was 1 year old...
Czech woman rules ok ;)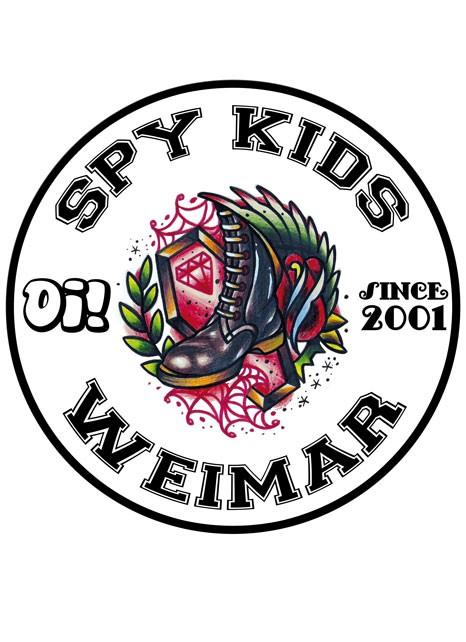 3. What are your musical influences?
There are so many influences, Zdenka and me (Koppel) listen to stuff like the good old British Oi!, Rabauken, Skinflicks, Anti-Heros, Orlik, The Protest but also Hardcore like Gorilla Biscuits, Youth of Today, Gallows, Slapshot, Warzone...Metal...the old stuff like early Metallica, Iron Maiden,Slayer, Ac/Dc to Darkthrone, Bolt Thrower, Impaled Nazarene, Autopsy, Death and also Bands like Blondie, Tilt!, The Sounds, France Gall, The Bellrays and much more...
4. What about the lyrics and music, who is responisble for them? Do you play any cover songs?
Schmottey is responsible for the most of the lyrics, Basti also wrote some of them and sometimes we wrote them together...Me (Koppel) is responsible for the music, I am the musical Dictator ;)
Yeah, we cover some songs, at the moment we play:
-Hey little rich boy (Sham 69)
-Shaved for battle (Stars and Stripes)
-Riot (The Oppressed)
-Riot Squad (Cock Sparrer)
-I'm a Spy Kid (Angelic Upstarts)
-ACAB (The 4-Skins)
5. What about some releases? I know you have one EP and you are planning split CD/LP with CZ punk rock band Normals!?...how did you came to that idea?
Forget the EP, it's not a official release...Yes we'll do a split 12'' with The Normals!?...a friend of us will start a label, he really enjoyed the Normals!?- show at Motoraj, so he asked the guys if they were interested...that's all ;)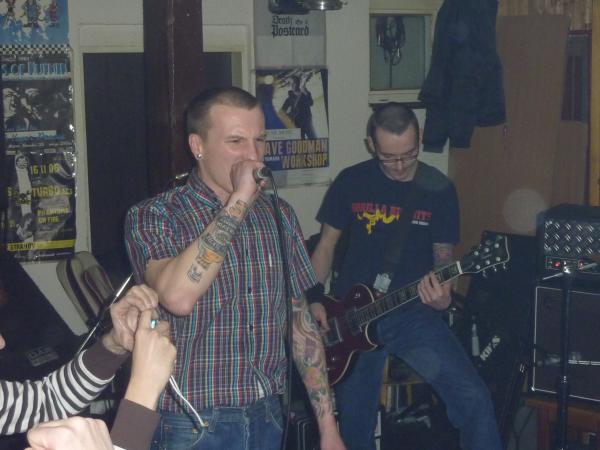 6. How was the scene in your city and can you recomand us any other bands from your area? And what about the gigs, how many do you played and with whom?
Hmm, i think there is no real scene...ca 10 people, we have our own club, called "Drums"...We (Bootboys Weimar) organize gigs at Drums...Hardcore, Oi!, Punkrock, Metal, Stoner...
There's just one Oi!- Band in Weimar, that's us, but there are some other Bands in Thuringia...Punkroiber, Bombecks. In Jena there are some guys, playing in a Gay Skin Movement – Band called Nasty Matter... faggots...
The gigs... i think we played around 30 Gigs, maybe 40...not sooo many in 9 years...we've played with bands like Punkroiber, Backstreet Firm, Brachial, OB, Red London, Warfare 223, Haircut, the Veros, Stomper 98, Vortex, The Last Resort, Razorblade, Lion's Pride, Last Riot, The Gonads, I Don't like you, the Jinx, Discharger, The Casuals, Get out, Bombecks, Anti Clockwise...and of course with Disdainful and the Normals ;)...
7.In February 2010 you play in our country for the first time, how do you like it and do you know anything about our bands before?
Yeah, it was a fucking great weekend in Praha, we've enjoyed it very much. Cool location and a great audience, much better than Germany...
You mean Czech bands in general? Yes, we listen to Czech bands like Orlik , Branik, SPS, The Protest, Master's Hammer, Krabathor, Daniel Landa...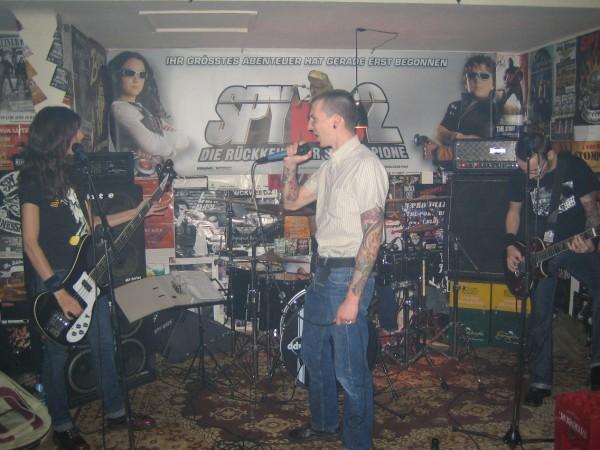 8.Where can we buy your stuff like t-shirts, cds, pins..etc...?

No stuff available at the moment, but I think we will sell our merch on the myspace- side in near future...watch out...

9.Plans for the future?

Trying to release a LP, playing more gigs, playing another gig in your country ;)...

10.Words on the end...

Thank you very much for the interview, Peddy...good questions...Regards to all the Czech girls and boys, who watched us at Motoraj- you rule !

Na zdraví!

Spy Kids, April 2010