Here is the interview with Australian band The Corps which will tour Eurpe again during September 2010. You can see us in Brno (7th September 2010) or in Dreseden on 10th September 2010.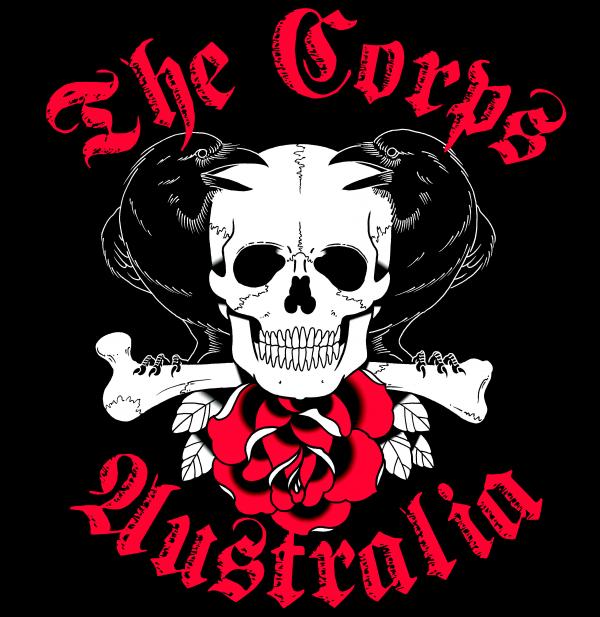 1. So at first classic question, tell us something about the band, members, work, age, hobbies and how did you met each other?
Well we're a 5 piece band ranging in ages from 28 to 43. We all met through giging and previous bands. I went to high school with the drummer and current Bass player. We have had some line-up changes over the years, and we will have a new guitarist since last time we toled in Europe in 2008. Our hobbies you ask... well the band is probably the main hobby we all share. We don't live off it. ha ha. As far as work, well we have a tattooer, a truck driver, a mover for an art gallery, and two guys who work for a freight company. Is this what you want to know?

2. How did you came to an idea to start the band and why did you choose name The Corps? Did any of your members played in different band before and did some of you play in different band beside The Corps?
Me, Will (bass) and Jordan (drums) were playing in a black/death metal band called Punisher. Me and Jordan wanted to start another more streetpunk/Oi! influenced band on the side. Something easier to play really. Pretty quickly The Corps became the main band. Will joint years later when Mike left the band. You ask about the name... well we wanted something simple. Originally we were throwing around the name 'Wolf Corps', but that was crap, so we shortened it to 'The Corps' early on before we had written many songs or played any gigs. All the members have been in other bands and some are currently involved in other bands still. Too hard to list who is in what bands, or who played in what bands in the past, so here is the full list, past and present: AVO,Punisher, Thug, Fuck Oath, Rust, Taipan, Butcher Boys, Throwdown, Frontside, Life Farce, Crimespree, Repoman, and maybe some more, can't remember.

3. It seems that there are pretty good bands now in Australia like you, Plan of Attack, THUG etc..can you tell us something about any other new bands which worth listening?
Obviously you've heard of Marching Orders. Their new records is excellent. Rust have a new album which is excellent as well. For those who like fast old school hardcore, have a listen to AVO and Throwdown (not the US metal core outfit). AVO reminds me a lot of a good Finnish band you may know called Last Laugh. AVO had some releases on Kangaroo Records in Germany. It's hard to think of streetpunk bands here because there's about 5 bands and that's it.

4. Who is responsible for writing music and lyrics?
The whole band is involved in writing the music to some degree. But in the past it was mostly me, AJ, and Pat. Now it's mostly me and Bevynn, but as I said everyone puts something into it. As far as lyrics, it's all me, except Graveside (from Nail It Shut 2007) where the lyrics were written by me and AJ. No one else in the band has ever bothered with lyrics.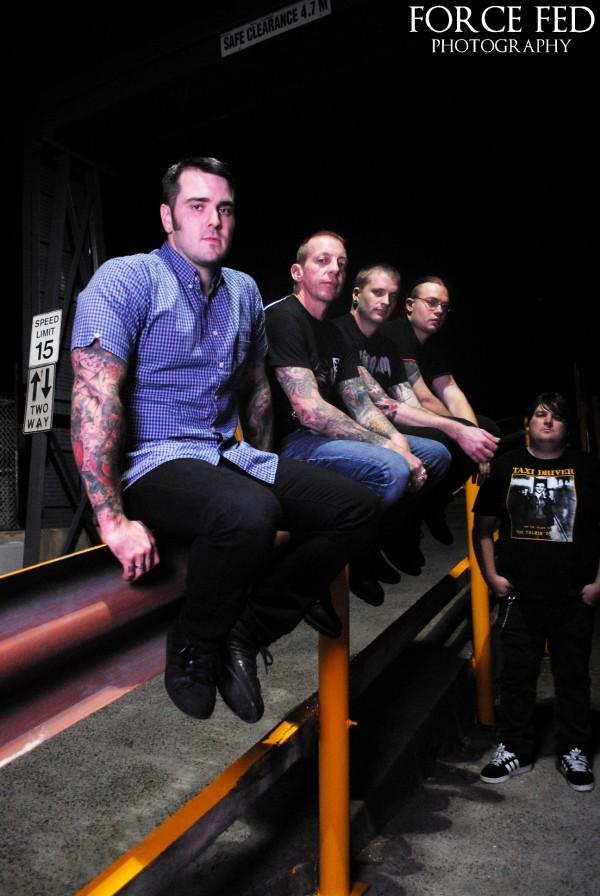 5. You have out some CD´s on Rebellion, Scampkid and Randale records. How was the cooperation with those labels. Now you are working on album Bottle of Rock´n´Roll so can you make some advertisment on it, what should we expect from it?
All those labels have been great to us. People know about the albums which mean they're promoting them and getting the copies out there. I'm happy with how all the releases have turned out. As far as Bottle of Rock'n'Roll, this will be out in August some time to coincide with our next European tour. It will be out in Europe on CD through Rebellion Records and on vinyl through Bandworm Records. I'm really happy with the song writing on it. I think it's a step forward. It still sounds like us, but less of the obvious tough guy stuff. ha ha. More rock'n'roll really. And it includes a couple of covers.
6. What about the scene in Australia? Can you tell us something more..like local bands which worth hearing, clubs, pubs, crews, zines etc...?
In Australia it's all mixed. No one particular scene is strong enough to be function strongly and separately from the rest. You don't really have any specific 'scenes' as such. So you get guys into all sorts of stuff going to similar shows. I think the only scene strong enough on its own is hardcore. It's good in some ways. You get play to with different genres and I think it makes bands less cliched when they can take a lot of different influences on board. The other good thing is that we don't seem to have that kind of scene political rubbish that fucks everything up in Europe. In general, the extreme rightwing scene in Australia is a joke, and is such a minor group of unthreatening people that no one has any reason to care. So the crusty punks and anarchists don't have much to winge about, and in turn they are a pretty impotent lot as well. There's no SHARPs and no Antifa here either. So everyone just gets on with the gigs and the fun. Some people try to stir up shit every now and then, but I think people realise that the kind of politics people are talking about on the punk scene are completely irrelevant to the real world. But the downside to all this cross-over stuff in Australia is that you can't ever get a big punk festival happening the way you can in Europe. You can only do really big hardcore shows with a few bands that might sound like Blood For Blood, or a bit old school hardcore. There's the odd ska sort of nights and rockabilly nights, but nothing massive. The gig scene in most major Australian cities moves around because there's so few venues set up for live music. If something bad happens at a show, the pub will stop booking that style of music. Then people move on to the next pub. So there's not many of those legendary venues that have been doing punk gigs since way back.

7. What about playing gigs, do you like it? How do you like your Europian tour, and how difficult is to organise it? And can you tell us if there is any difference between gigs in Europe and in Australia?
I love playing live gigs. I think The corps would be a shit band if we were only a studio band. It is hard in Australia to tour to other cities because of the distances involved. And there's almost no tours worth playing in beteen the major cities. As far as the European tour, Balazs from Scampkid has done a great job doing most of the organising both times. It helps us a lot. I think the major diference is simply the numbers of people around. In Sydney (where we live) there is no way an underground band could play a good show on a Monday, Tuesday, Wednesday ever. You might be lucky if you can get people out to a Thursday or Sunday show, but you have to be attracting a very young crowd of unemployed or student types. So the only nights to work with are Friday and Saturday. When we were in Europe last time, we played to decent crowds almost every night of the week, and often with no support bands. That is unheard of in Australia for underground music.

8. Where can we order your stuff like T- shirts, CD´s, sweatshirts...?
Well there's the webshops for the labels (Rebellion Records, Randale Records). I think they both have clothing from us still. When we have stuff in stock, you can buy from us (contact our myspace). We are about to do 2 more designs. Rebellion Records will be doing one soon as well. I think Pure Impact has some of our clothing as well.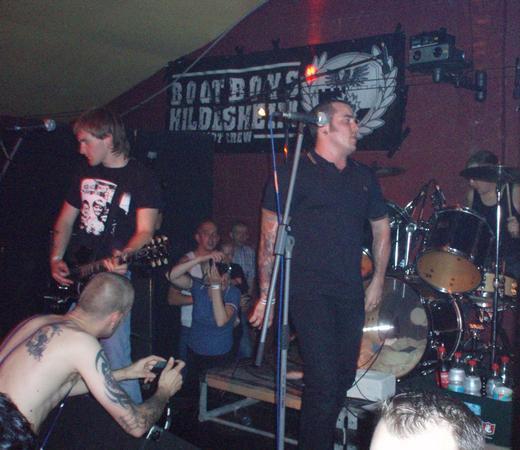 9. Do you know anything about Czech rep. and about our scene like labels, bands, zines etc? And how do you like two gigs which you played there?
I don't know much about the scene there at all really. I don't think we were in the country long enough. The shows we played there were great fun. The festival was excellent. We didn't spend long there, but Vlad and yourself looked after us for our short stay. The only zine I saw from there had a picture of me on the cover, but I couldn't read anything about it because none was in English.

10. Plans for the future...
Keep playing. Keep writing music and recording it. Nothing else to say.

11. Words on the end...
Thanks for the interview and the support. See you in September in Brno.