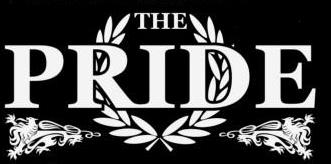 1. So at first classic question give us brief information about band history, members and how you met each other?
We started in the early 90's as a punkrock band called The Mushrooms. It was a 3 headed band with Patrick on drums, Steve on guitars and Chris on bass. Later on Berca joined in as second guitarist and the sound started more involved to streetpunk and melodic oi music. Later on we decided to change the band name in to the Pride. We continued with the same band members. It stayed that way until 2005. At this time Berca, Chris and Patrick called it a day because of personal reasons and things got quiet for a while. Then I decided to start up the band again and found new band members and here we are again!!
2. When and why came decission to start The Pride? You have also many line up changes and your members used to play and also plays in different bands beside Pride so can you name it?
Patrick drummed also with Les Vilains while Chris had some side projects in blues and rock bands. Steve also played with Voice of Glory (a band with Bieze - ex No Debt) and first filled in as bass player and later on guitars with Headcase. The reason to change the band name in to the Pride just popped up.
3. You had farewell gig back in 2002, why did you put the band together again?
I was getting bored and never wanted to quit with the band in the first place.
4. What are your musical influences and who is responsible for writing lyrics and music?
The influences for writing our music are really coming from everywhere. We have a variety of songs going from Princes for One Night to Skinhead and even some real metal tunes depending on our mood on the day that we write the song. The lyrics they come and go and are written by any band member who comes with it. We get inspired by the most stupid things you can imagine. From things we see on the street or even in sope stories like home and away and neighbours hahahaha. We have serious lyrics and most hilaric lyrics as well. Not every song we write has to be taken serious or for real. We just like to joke a lot and take a piss on people as well.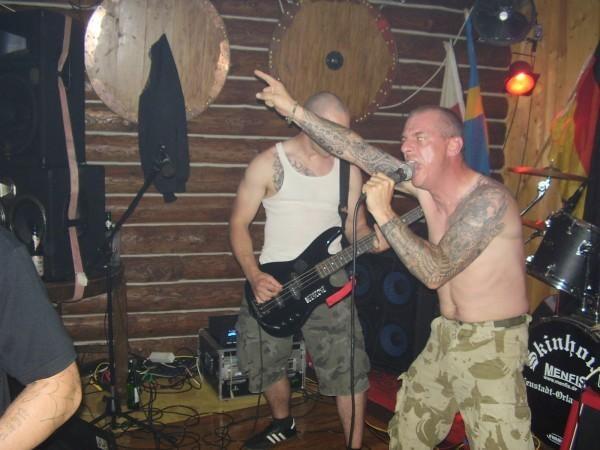 5. You have 3CD´s and 2 EP´s out I think so are you planning some new CD/LP?
We are bussy now writing songs for the fourth CD and we try to make it serious this time!! (I hope hahaha)
6. What about the gigs, do you like playing live? And are there some differences between gigs in Belgium and abroad?
Playing live is still the thing we like most. There are really not so much differences in playing in Belgium or abroad. Gigs are ment to be fun and as long as they don't get spoiled by some political activist. It's fun playing everywhere.
7. You come from Belgium, from Brugge, which is famous for its skinhead scene and pub de Kastelein(Moloko bar). Can you tell us something more for people who weren´t there? Can you also give us some info about new breed bands from your area which worth hearing?
The Moloko (Kastelein) has Always been a great pub and the place to be for everyone who is involved in the oi/streetpunk scene. There is a great variety in people who are coming there. It is a pub where everyone is welcome as long as you can leave your political ideas at the door. We have punks, skins, psycho's, black and whites who are coming there and nobody seems to care!! That's a great thing about the place. Respect the place and the place will respect you. New bands who are worth checking out are The Moloko Kids and The Firm.
8. Are you supporting Club Brugge?
OFFCOURSE!!!! And they will Always have a special place in my heart.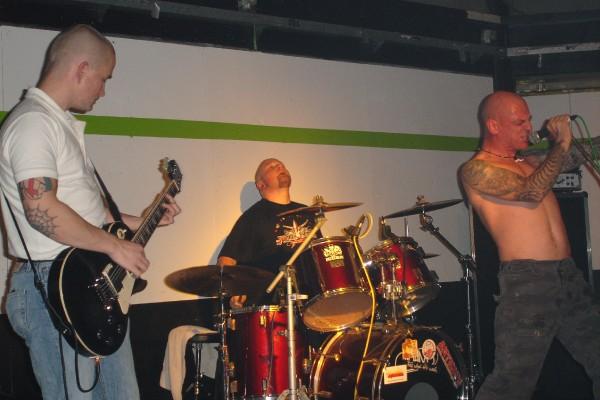 9. Do you know anything about Czech republic? I know that you were here in 2002 with Headcase.
Hahahahaha sure. Abshint and Czech rum!!!!!It's a place where we loved and still love to play! A bit like home.
10. Where can we order your stuff like CD´s, T-shirts...etc?
T- shirts can be ordered thru myspace and cd's are available at different mail orders like Pure Impact and many more.
11. When we want to organise your gig what should we do, what are your requirements?
A place to sleep, transport and tons of beer and food are the basic requirements and the rest we see at the gig. We play music for the working class. If there are a lot of people at the gig we ask some extra money if there are not so much the basic requirement will do. It's never the intension of leaving a working class organiser with a financial pit.
12. Plans for the future
We will recording a split album with The Firm soon and later the fourth long expected new cd. And hopefully a lot of gigs.
13. Last words...
Thanks a lot for the interest in some old bastards in our midlife crisis and hopefully we see you at the gigs.