1. So at first can you introduce your band, members and tell how did you met each other?
There is Artur – our drummer. We know each other since nearly 20 years. We always had the same taste of music. In 1997 we started our first band. A year later I joined another Band as drummer called Broken Buttocks. This Band started as a Hardcore/Punk Band and with some line up changes it became an Oi band. This line up with Andre – Bass, Artur – Drums, Rainer – Guitar, voice was the first Kraftheim line – up. Kraftheim started as a project. Because of some differences Andre left the band 2003 and both Bands seemed to be finished. But Artur and me kept on playing together and some new songs were written. 2006 Daniel joined the band on second guitar. He played in another project of us and also liked Kraftheim. With him we recorded our Mini CD and the new album. Until now we worked with two new bassplayers together but both left the band after a short time. So I always played the Bass by myself on the recordings.
2. When and why you came with decision to start Kraftheim? Has some of your members any experience with playing in different band?
I like the stories of vikings and northern mythologie since 1990 when Bathory released their album "Hammerheart". Spending a lot of holidays in the high north of Sweden I was interested in musicbands of this country. One day I was holding Ultima Thules "Sverige" CD in my hands and it kicked me off the seat. I wanted do have my own band of this style with lyrics about the northern mythologie.We all play in different Bands. In metal bands, a Hard/Thrashcore Band and Punk Bands.
3. You are playing viking rock, why did you choose this style and which bands inspire you?
I choose this style because it is easy to play - My favorite Viking Rock bands that inspires me are Ultima Thule, Enhärjarna and Midgards Söner.
4. You have Geächtet EP, s/t CD out on Dim records and now Midgards Zorn DIY..why did you choose DIY instead of relasing this through some label?
We had a lot of problems with all our bands in playing gigs. When you are at Dim Records everybody in Germany thinks that you are a fascist band. We are no fascist band. We hate extreme political bullshit opinions – left and right. We just want to make some good music. So we chose to release our new CD on our own. We are tired of justification. But it is hard to sell records without a label that stands behind you...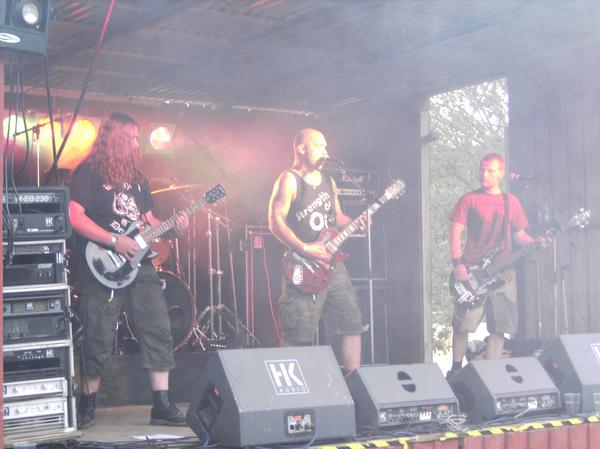 5. Can you describe your new album Midgards Zorn and make a little advertisement on this piece? What should we expect from it?
What can I say? It is better than our first album. My singing is much better now and we also learned to play our instruments much better. If you like our first album you will not be disappointed of the new stuff – our style didn't change. You should listen to the songs at myspace.
6. Who is responsible for the music and lyrics?
I write all songs and lyrics. I am working on the riffs at home and arrange them in our rehearsal room together with Artur and Daniel.
7. You come from Niedersachsen...describe please the scene in your area...clubs, pubs, zines, bands worth hearing etc...
Our scene is very boring. We have got some clubs in our area but most times when there are good gigs the crowd is very small. No good zines, no good bands...We don't really care about "scenes". We never felt being a part of any scene.
8. What about the gigs, how often do you play and do you like it? You also play in Kuggnas festival in Sweden, how do you like it there?
We just had 4 gigs with Kraftheim. Our first was on a Metal Festival. Then two on biker parties. And Kuggnäs. It was a great feeling to play on THE Viking Rock festival together with a lot of great Swedish Bands. I always wanted to play one time with Kraftheim there. 2008 I wrote an email to Kuggnäs asking if we can play there. They invited us and it was an amazing trip. It was a nice atmosphere there and we met a lot of nice people.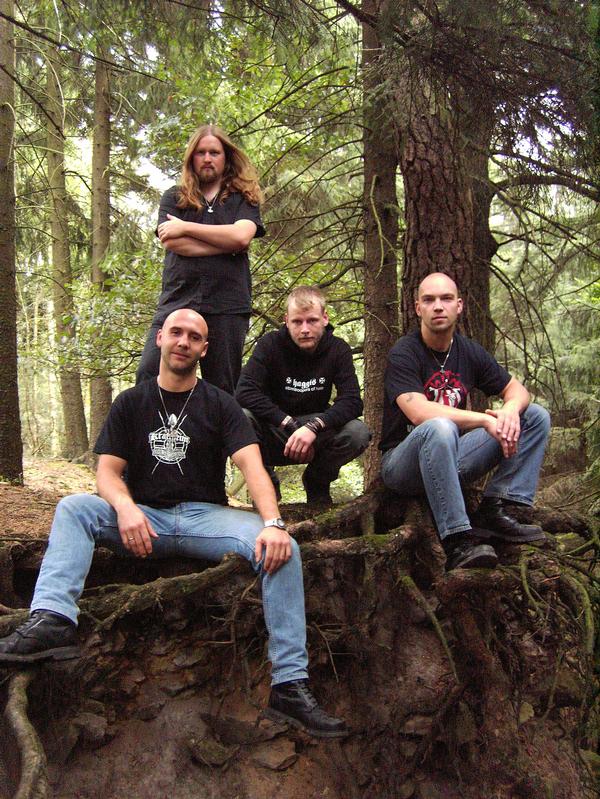 9. What should we do to organise your gig here in Czech rep.? What are your requirements?
We just need fuel for our car, a sleeping place and something to eat and drink. But I don't know when we will be able to play again, because we have to search for a new bassplayer and they are very rare...
10. Do you know anything about scene in Czech?
I have never been there and don't know anything about the scene there. But one day I will spend some days there...
11. Plans for the future...?
Since our last Gig in 2008 Kraftheim is "sleeping". I wrote 6 new songs by now. When I wrote enough songs for a new album I take them to the rehearsal room and Kraftheim will awake. Maybe we will search for a bassplayer when the time comes to play some more gigs.
12. Last words...
Be true to yourself. Keep both eyes open. May the gods be with you!!!