1. So at first tell us something about your band, history, members and how you know each other?
The Templars were formed in 1990 on Long Island, New York. In the beginning it was just Phil & I (Carl), on drum and vocals/guitar respectively. Phil and I were introduced to each other by a mutual friend. We started out jamming in my parent's garage, doing cover songs. Finally, we decided to make it a real band and write our own songs. Our first gig was June 3, 1992 at the Holbrook Civic Center. The show was put on by some friends of ours and included bands like 411, Scapegrace, and Common Ground. We've been playing every since. Perry plays bass. He used to do a fanzine called Carry No Banners and played bass in a band called Chapter 21. We meet Perry thru his fanzine and meeting him at shows. Chris plays second guitar. We meet Chris in Paris when he was playing in a band called Les Poches and another band called Bombardiers. He moved to New York and became our new guitarist.
2. Your band has two regular members (you and Phil) what about the other guys are their also members or just guests for live gigs?
Perry and Chris are also fulltime members, but the recordings are usually just Phil and me. It makes things easier. Perry has written a lot of the lyrics on the past few releases and a few of the tunes.
3. Your band was founded in 1990 why did you choose your name Templars? Are you interested in history in general?
Phil picked the name the Templars because he was into the Crusades and Medieval History. As an avid fan of medieval history I liked the idea. It's sort of an homage to the forgotten warriors of the past.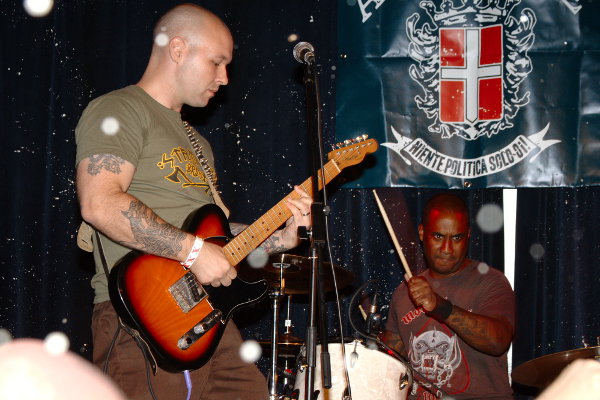 4. You had (and still have) many side projects like Stamford Bridge, Ukkos Jumala etc...it is just studio projects or are you play live with the living ones. And what abolut the Phil´s playing in Stomper 98, how did he getting to reheresals before gigs and isn´t this too time consuming?
My side projects are just studio projects, although I did so one Stamford Bridge gig. I don't have the time and energy it would take to make turn these projects into live bands. Phil is a good enough drummer that he doesn't need much practice before a show. Sometimes he is able to fit in a practice with Stomper 98 when there's time.
5. You have countless albums, EP´s , split EP´s etc...what is the isnpiration for your songs...and what bands are your musical influence?
I find inspiration from daily life, things going on around me, things going on in the world, historical events, etc. My musical influences range from '77 style punk to early British rock to early metal and even folk music.
6. Can you compare the situation in scene during 90´s like gigs and bands and nowadays?
It has changed quite a bit since the 90's. It feels like there is no enthusiasm for the music and everyone has run out of ideas to keep it interesting. The scene is New York, as in most of the big cities in the US, is pretty dead. There are fewer people in the scene and less bands. But the scene comes and goes in waves, so I'm sure it will pick up again in a few years.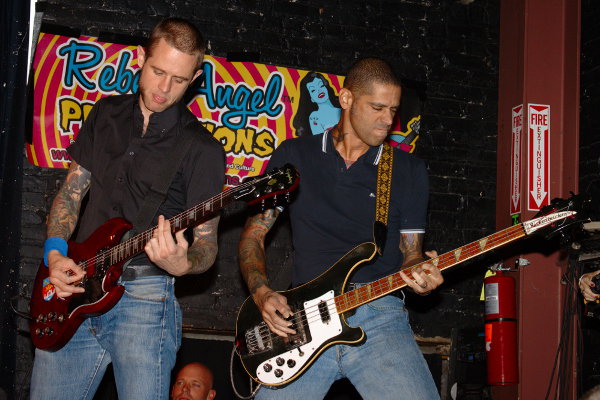 7. You have just released split double EP with The New Chords, what about the full length album? And do you personaly prefer vinyls or CD´s?
We are beginning to plan a new full length album. It is harder to do these days, because we have less free time than we did when we were younger. I prefer vinyl, but CDs are fine with me.
8. You come from New York which has many good bands so can you describe any new ones which worth hearing from your area?
The 45 Adapters are a new skinhead band worth checking out. They've released a 7" on Long Shot/Contra Records. Also check out Brought Low. They mix Southern Rock with Punk. Also check out the Baby Shakes, the Stalkers, Electric Dirty Spiders.
9. You played many times in Europe and you also lived here so can you compare the scene here and in USA?
Both America and Europe are quite big and things differ greatly from city to city and country to country, but overall Europeans seem to appreciate music more and they tend to treat bands much better.
10. You also played in Czech republic 8 years ago I think...how do you like it...do you know any current Czech bands?
The show in Prague was a lot of fun. I know Czech bands like The Protest, Operace Artaban, The Riot, Incident, and Pilsner Oiquell. And of course I know Orlik, for good or bad. J
11. You also make Hammersmith clothing...tell us something about that...
I came up with the idea for Hammersmith many years ago, but was never able to follow through with it. I had noticed there were no companies in the US making skinhead clothes and I had this idea to make camouflage Harrington jackets. I finally had some prototypes jackets made a few years ago, but decided to put the project aside. My wife encouraged me to revive the project and now we have a nice little business started. We have factories custom make our Harrington jackets, scarves & polo shirts. This sets us apart from the kids printing their own shirts & hoodies. We also carry some new & used military surplus.
12. Plans for the future....
I plan to keep recording music and playing shows!
13. Last words...
Thank you to our Czech fans.
Na zdraví!