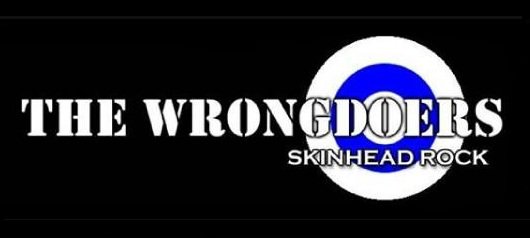 1. So at first can you introduce your band, members and tell us how do you know each other?
Oi! we are The Wrongdoers, skinhead rock band from Helsinki, Finland.
Line up is: Renne - Vocals, Santtu - Guitar, Atte - Drums, Tomppa - Bass.
We have known each other from long time since early-mid ´90s through skinhead scene.

2. When and why came decission to start Wrongdoers and why that name?
The Wrongdoers was born in 2001 with a different line-up than today. We played few gigs in Finland and one in Estonia. We did a demo cd-r in 2002 and some time after that the band called it quits. In 2008 we thought about getting our shit together again but without our original guitarist. At the same time Santtu and Tomppa were planning a new Oi! band(we had talked about it for many years but with no success). So we decided to ask Tomppa to The Wrongdoers to play bass which i played in the old line-up. Tomppa joined the band and Santtu switched bass to guitar. The Wrongdoers resurrected and the new line-up is the way it should have been in the beginning.
The name was pretty obvious choice, isn't every skinhead a wrongdoer in society's eyes?

3. You have out album Helsinki on Crowbar...how was the cooperation with the label? Do you plan also vinyl release?
Yeah, cd came out on Crowbar Records and Alive & Kicking. Working with these labels have been great, no problem with that, only problems have been that we´re lazy bastards so if there has been any delays it has been because of us. hehe. Vinyl should be out soon on these labels as well.

4. I have seen some webpage where your band member was in some kind of jury on some X-factor competition...what was it?
Haha, you have done your homework, you´re right our singer was one of the judges in Finnish X-factor, think about skinhead in X-factor jury… There was huge problems with media and papers when they found out that Renne is skinhead and he sings in skinhead band, it was total madness. Renne and The Wrongdoers was couple of weeks at front page news in every papers in Finland. In youtube it took like 3 days and over 100.000 visits, fucking unbelievable hahah.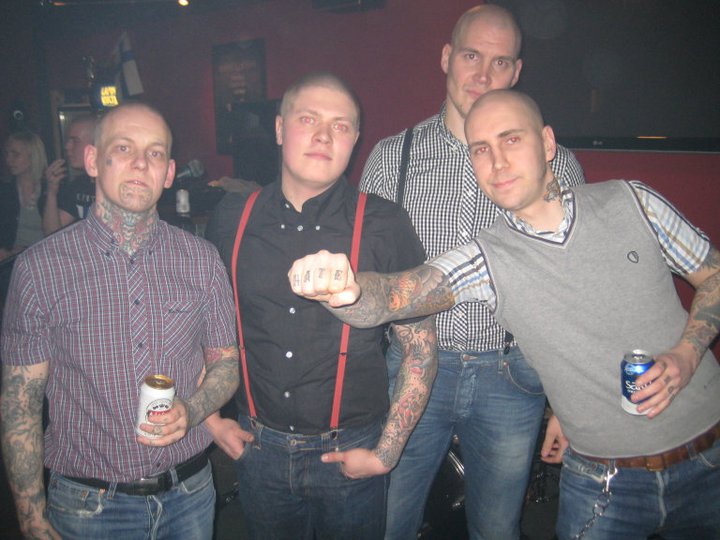 5. What are your musical influences...your sound reminds me Glory Boys a bit...
Our musical influences come from old and new skinhead oi! bands. Don´t really see much common in our and Glory Boys sound. Oh well, we are both new breed skinhead Oi! bands... anyway support Glory Boys, great lads and good drinking company hahah.

6. I know some bands from Finland like Hoist, Open Finger is a Broken Finger, Kalevalan Viikingit, Prideful or Skinboiss...can you tell us about other new bands which worth hearing?
There is not much Oi!/streetpunk bands besides those you already mentioned. Check out The Jacklads good guys and good brickwall Oi!. Also female fronted streetpunk band The Dead On´s and punkrock band Rejected are really checking out.

7. What about the scene in general...pubs, clubs, zines...
Skinhead scene could be better but a small country like Finland, there's a fair amount of skinheads here. It's been good to notice that in our gigs there have been skinheads from left to right, "punks" are welcome too but we think they are too busy with internet hahah.
We got a skinhead pub here in Helsinki and it´s run by skinheads for the skinheads. It´s open from friday till sunday morning, skinhead rocknroll and beer for all weekend long.

8. Are there some vikingrock bands in Finland?
No not really, more of viking heavy metal. Finland don´t have viking roots like Sweden, Norway and Denmark. Kalevalan Viikingit is closest to that genre.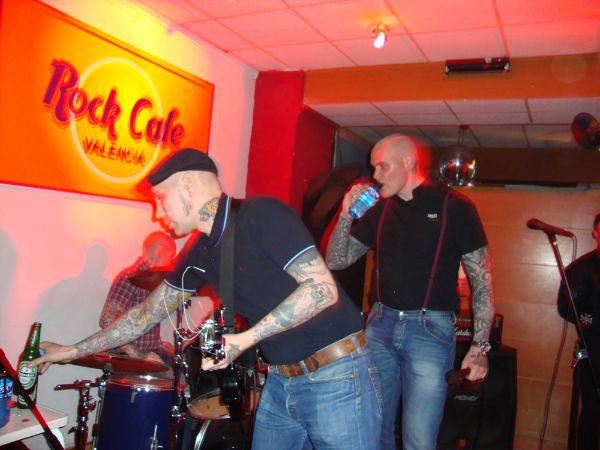 9. You become world champions in ice hockey this year...are you prefare football or hockey? And why?
Santtu and Atte is more into ice-hockey, they´ve been following it since they were just young hooligans, problem is there is two teams in Helsinki and they support different ones... Tomppa is more into football and of course we all follow Finnish national football team, even we´re shit in football
haha.

10. What about the gigs in Finland...is it difficult to organise oi!/streetpunk gig in Finland? And what about playing live, do you like it? You played in Spain some time ago can you compare the warm south with freezy north?
Oi! gigs is easy to organise in Finland, cause we´re do them ourself here in Helsinki, otherwise no one organises them. In Finland there's no point to organise gigs with Oi!, punk and hardcore bands together or at least to book us to that kind of gig hahah. We we're supposed to play in august at 2 day punk/hardcore fest but the result was that majority of the bands cancelled because of us and the whole festival was cancelled. It seems that we bring wrong kind of audience to the gigs and also when we are not interested in any leftist pc shit it don't help much hahah. Yeah we really like to play gigs but they take their toll and recovery takes many days hahahah. So contact us if you want Finnish skinheads to drink and ruck in your town. Spain was awesome, people we're nice and all worked out great. Viva Espana!
11. Do you know anything about Czech skinhead scene?
Yeah, we know you got good beer in Czech, that must be related to skinhead scene somehow?! haha. You got some good bands aswell Orlik, Buldok, Disdainful(have you ever heard them?! haha), Conflict Eighty Eight, Vlajka, Operace Artaban, Pilsner Oiquel and The Riot to name some. We hope to come play there someday to learn some more.

12. Plans for the future...
Just keep on playing skinhead rock n roll. We propably hit the studio in august to record few songs for split with one well known oi! band, but don´t want to say anything more about that before everything is 100% exact.

13. Last words...
Cheers for the interview and support. Hope we'll meet you and other czech skins someday for beer or two. Keep the faith!
Kippis! Santtu and Tomppa