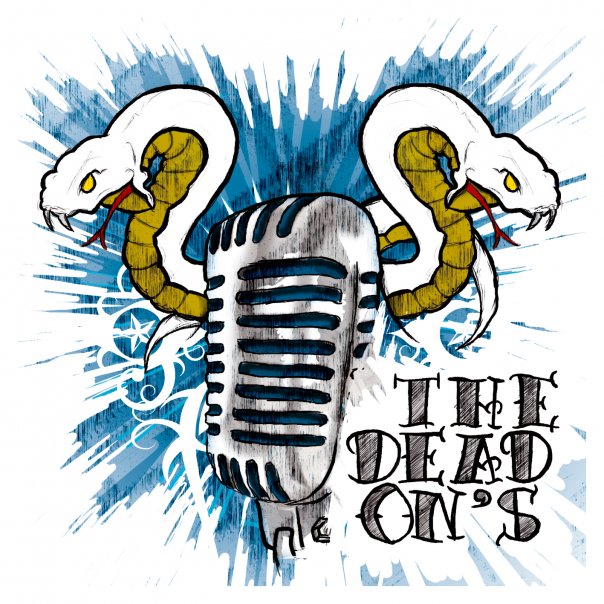 1. So at first classic one, can you introduce your band, members and tell us how you know each other?
We are a female fronted Streetpunk band called Dead On's from Jyväskylä Finland. We have been playing together for 3-4 years and "Letters from Dead On's" is our first EP. Guys started the band cause they wanted to make good Finnish Oi!, I - Hanna joined the band 2008 when our guitarist Toni bumped into me at a pub - shitfaced - and asked if I'd like to sing in an Oi! band, haha.. I've known our drummer Lauri for more than 10 years, so we have loooooooong history. Toni and Mika have played together for a decade. Old men.

2. When and why you made a decision to start a band and have your members any experience with playing in other band before?
So 2008 was the year we started Dead On's. Mika and Toni loved Oi! music and they wanted to make good old school Oi! songs to the honor of all the old bands like Cock Sparrer, Blitz, Evil Conduct, Skrewdriver etc.So they did, and that's how Dead On's was born. Toni and Mika had played together for a long time and they had project bands that played hardcore (Salo) and ska (Monstersound). Lauri has played drums forever and has had many different bandprojects, now he plays in The Prideful and Kalevalan Viikingit too. I've played in one shitty Oi! band before Dead On's, haha.. It was fun but I believe it sounded like shit.

3. You have released mini CD called Letters from... just now on Street Beat Records...is it your only release? And can you tell us something more about the label and cooperation with them?
Yeah, Street Beat Records contacted us cause they had heard our 2010 newly recorded songs in youtube and wanted to work with us by releasing our EP. We've made a DIY demo in 2009. Street Beat records have now released our EP "Letters from Dead On's" and we are very happy with the cooperation, we have posters and buttons and also t-shirts coming up! Nothing more to say, we're glad someone appreciates and helps us with spreading the word on us. Love em!

4. Mini CD was out, are you thinking about vinyl version of the album? And do you personally prefer vinyl or CD?
Well nothing wins the vinyl.. So we'd love to release vinyls every time. But it's a financial thing with these things. If it was up to me cars would have vinyl players.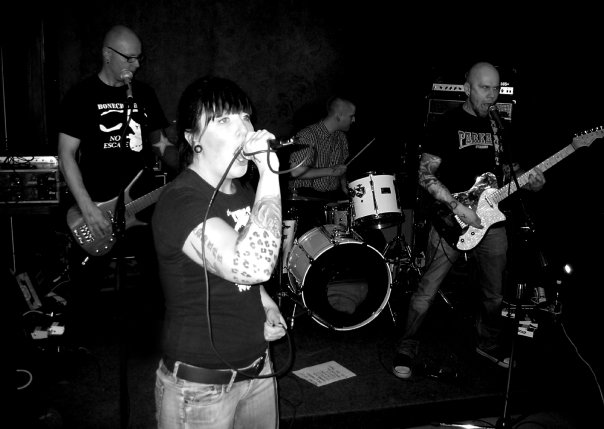 5. Also your CD has original cover, who is doing graphic to you and why did you chose this motive?
I asked an old friend of mine Tomi-Pekka Kuusisto from Legacy Tattoo, Helsinki Finland to draw a beautiful maria- style woman for me and so he did. We are very happy with the cover work, amazing. The cover art represents our openhearted love for Oi! music! Thanks for the cover design goes to Samuli from Kid Chameleon too.

6. In your music I hear influences of The Veros, Templars, Skrewdriver and also Dims Rebellion (the song with keyboards)...what are your musical influences?
Yes thank you. Skrewdriver, Evil Conduct, Blitz, ska music in general, Templars and all the other Oi! bands have influenced us throughout. I have also been inspired by women artists like KT Tunstall.

7. How many gigs have you played yet? Do you like playing live?
We love it, I believe that's the point in all of this. Playing music live to people who respect Oi! music. We've played only in Finland. Jyväskylä, Tampere, Lahti and Helsinki.

8. You come from Jyväskylä city, can you describe the scene there...pubs, clubs, bands, crews, etc...?
Well well.. We're not so huge fans of "scenes". We have shitty pubs and clubs but they serve alcohol so that's the most important thing. Good mates along and voilà! Lutakko is a good place for gigs and if clubs have good djs playing good tunes(vinyl!), we are happy. We have good bands like Kid Chameleon, Upright, Saló, Ghost Brigade, Braineaters, and Presley Bastards.

9. From Finland come many good bands nowadays like The Wrongdoers, Open Finger is a Broken Finger, Hoist, Prideful, etc...can you tell us about some other new breed bands which worth hearing?
Yes, good ones mentioned. Other bands worth of mentioning are Upright - hardcore from Jyväskylä, Kid Chameleon - skatepunk band from Jyväskylä, The Jacklads, The Obscenes, Wasted, One hidden frame, Rejected, Kalevalan Viikingit. Check them out!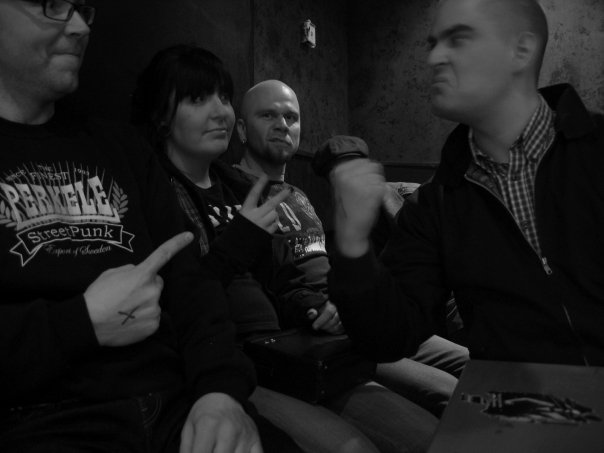 10. Where can we buy your stuff like CD, t-shirts, etc...?
Write to Street Beat Records - streetbeatrec@gmx.de, Bandworm is selling our CDs, so is www.oi-punk.de and www.kb-records.com. You can also contact us thedeadons@gmail.com for our stuff! T-shirts are coming soon! We are also on facebookwww.facebook.com/deadons and myspace www.myspace.com/thedeadons.

11. What should we do to organise your gig? What are your requirements?
Haha, requirements are to get us there and back, feed us, give a roof over our heads and a place to sleep and get us drunk after the gig. And show us a good time!

12. Do you know anything about Czech republic and scene here?
Well we know where the country is and that's about it, haha. Hope to know more about it and maybe someday we'll get the chance to play there.

13. Plans for the future...
The future is open. We'll take it a day at a time. Hope to get a new basist (Mika hasn't been able to play with us anymore due to health issues), get our shit together and rehearse more, play more gigs, more new songs, more releases!

14. Last words for our readers..
Thank you for the support ! Contact us if you have any questions or ideas. Next time you have a drink or two, put Dead On's on and have a great time, cheers!
Hanna, Dead On's