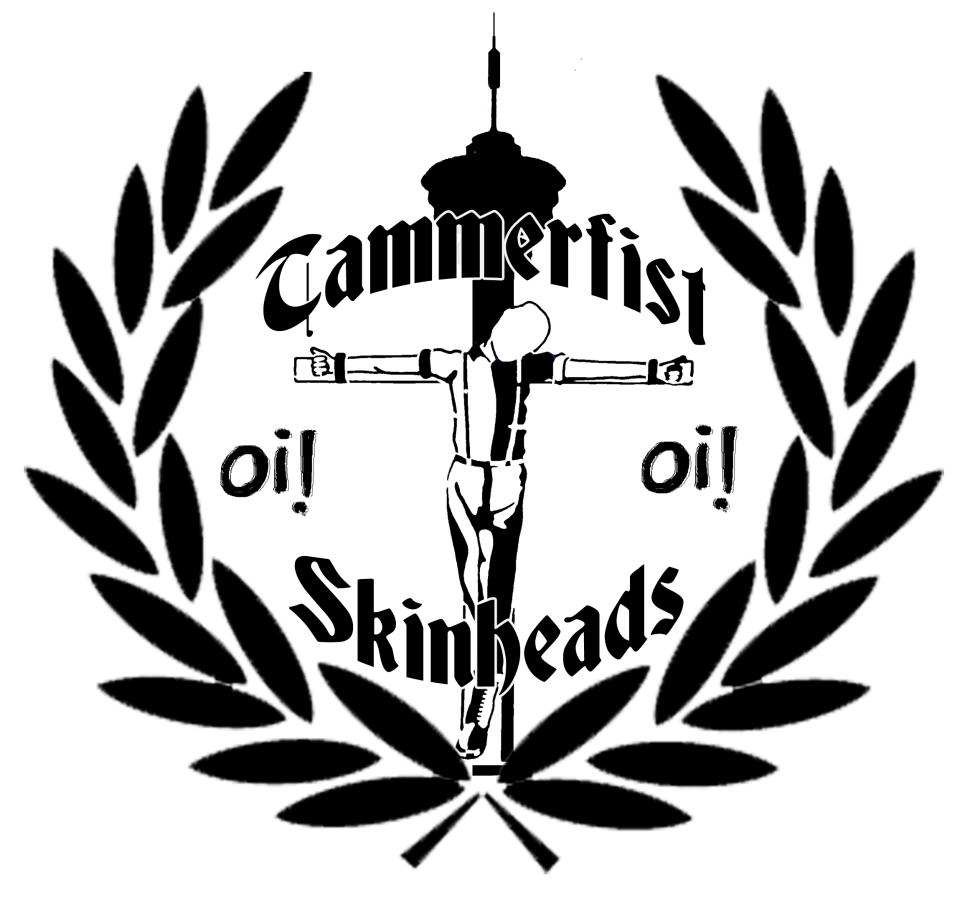 1. So at first can you introduce your band, members and tell us how you know each other?
Hello and thanks for your interest in our band!
At the moment our line-up is
Lauri - Bass
Markus - Guitar
Olli - Voice
Jere - Drums
Our singer and bassist are brothers, so they have known each other their whole life, but as for the whole band, we know each other because we live in the same town and the scene here is rather small.

2. When and why came decission to start Tammerfist and what does the name means?
We started playing in 2010. The idea was to put up Oi! band where all members would be skins. After a while when we had played together a little bit and practiced mostly some cover songs we decided to translate a few songs to Finnish (Livsstil was one of those). Soon after that we started writing our own songs and because Finnish is our native language and most of the Oi! bands that come from here are singing in English, we thought this would be the "first" Finnish oi! band that sings only in Finnish.

The name Tammerfist doesn't really mean anything at all. It is a joke derived from the name of a mainstream festival called Tammerfest which is held in our town every summer. We also have the Tammer-rapids, Hotel Tammer etc. so the explanation might also be that Tammer has something do with our lovely hometown and fist... well, you know what a fist is, haha.

3. I know that some of your members play in Skinboiss...have also other any experiences with playing in a band?
Yes, Most of us have played in some bands before, but none of those are active anymore. At the moment our singer is playing guitar in The Prideful (They are soon about to release their first 7" EP called United Voice) and the guitarist and the singer also have a new project with the drummer from The Hoist, but there isn't much to mention about it at the moment.

4. You have out self-titled EP on Skinhead Beat/Bords de Seine...can you tell us anything about the cooperation with these labels?
In March 2012 we were asked to play in Germany, mostly because we share members with The Prideful who were playing there. A month before the gig the promoter heard about us and asked us to come and play there too. Before that we had talked with Nico BDS (who we know because we have bought records from him for many years) and he mentioned he would be interested in releasing our 7" but needed some other label to do a co-production with. After our gig in Germany, the promoter who runs "Skinhead Beat Records" said that he would be interested in releasing our material and we suggested that he should do a co-production with BDS.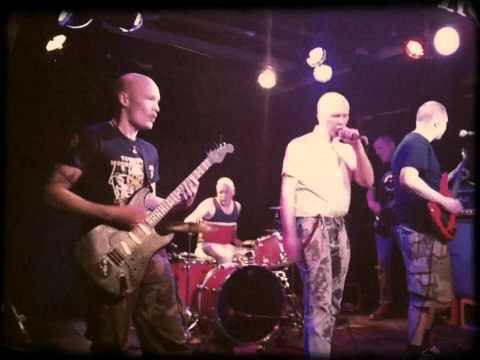 5. Can you describe your sound and the songs you have on EP?
Most of us like old 80's Oi! and punk sound and that's the sound what we wanted. There aren't too many skin bands these days that makes old sounding Oi! with a bit "poor" quality but good sound. Have we pulled that off; well, it's the listeners decision. The songs on our EP are recorded in the same home studio where Skinboiss have recorded their LP. Dan from Skinboiss recorded our stuff and was also helping us get that sound that's on our EP. The topics of the songs are mostly typical: drinking, having fun, fight, and maybe some more serious topics from time to time. We are an apolitical band, so no politics in our songs.

6. I also like the fact that you are singing in your native language...can you tell us why because other bands from Finland which I know sing in English...
We've got much positive feedback about using our own language. The reason why is simple, there weren't any pure Oi! bands in Finland that sing only in Finnish. Also because it's our native language it's much easier for us to write lyrics. In every other country like France, Germany, Spain, Sweden etc. there have been bands that only sing in their own language from the start, but I don't know why it hasn't been like that here. Also it is good to mention that there have never been as many bands from here as from those countries mentioned. Some of the bands here have made a few songs in Finnish, but no one did music only in our language. Of course if we are playing a gig and we have some well known English language cover songs in our set, we use the original lyrics, but all our own songs are only in Finnish.

7. You come from Tampere city, can you describe it for us from the skinehad point of view? Clubs, pubs, crews and scene? And it is different there then in other parts of Finland?
Well I think that the biggest skinhead scene in Finland is of course in Helsinki, but we have a small scene, still much bigger than most of the other cities in Finland. Tampere is the 3rd biggest city in Finland (only Helsinki and Espoo are bigger) and of course where there are more people there are bigger subculture scenes. There aren't any specific "skinhead pubs" here, but we have one place that most of the Tampere skins (that we know) are going to on weekends, because there's a skinhead working behind the bar.
There are a few regular happenings: one is "Keep The Faith", where three of our friends are playing Northern Soul, Reggae, Ska etc. older music. The other is "Spot the thug" which has been a club where Oi! bands play.
Regarding the scene itself, we just like to hang out with our friends, drink beer, listen to music and have a good time. There are probably some right wing groups, but they keep to themselves and don't make much of a fuss. We don't really know if there are any red or anarchist skins here anymore. We are happy with the scene as it is now, but as for other cities and their scenes, you'll have to ask them.

8. Can you tell us about some new new breed bands from your country...I know Wrongdoers, Prideful, Dead´s On, Jacklads, Pistones....
Most of the pure Oi! bands that are from Finland and are active was mentioned there. Only Skinboiss, Ultra Brewtality from Kuopio (with who we are planning to do a split 7") and The Hoist (maybe the oldest Oi! band from our town) weren't mentioned. Also Ari from Skinboiss has a few other projects like Kalevalan Viikingit (mixing Oi! and viking rock...and by the way does also have songs in Finnish!) and Kareliaani. If you're interested in older Oi! bands coming from Finland, but who aren't active anymore check out Bitter Bois, Common Voice and Fist Season.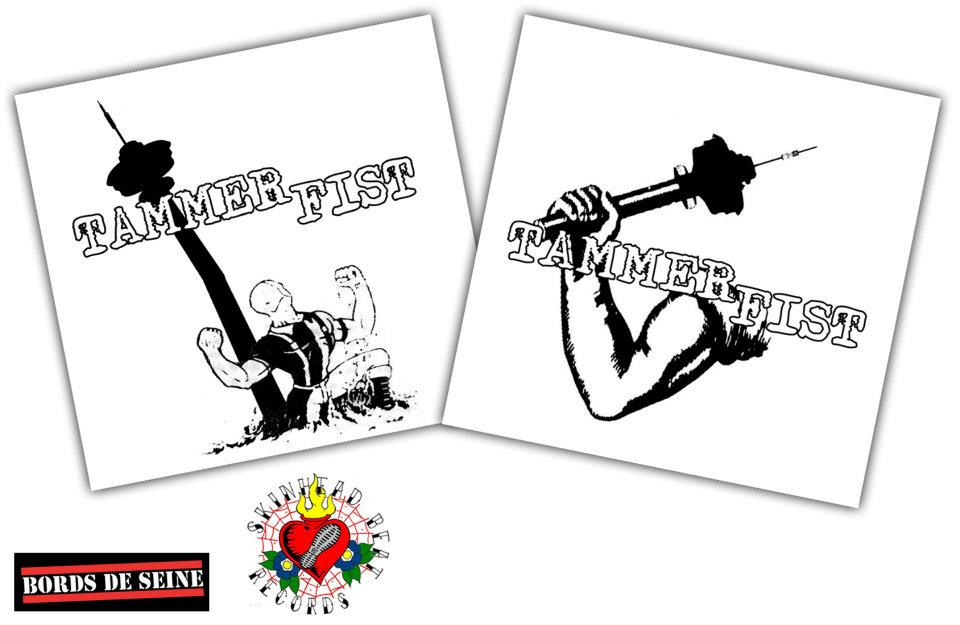 9. Which bands influence you? And do you prefer older or new breed bands?
Every member of our band has their own opinion about this, but mostly we are influenced by old (or old sounding) bands like Agent Bulldogg, Templars, some french bands like Komintern Sect, Evil Skins and Skin-korps, German bands like old Endstufe or Böhse Onkelz or Schusterjungs. Of course some classic British bands that probably don't need to be mentioned - Condemned 84, 4-skins, The Last Resort, Combat 84 and stuff like that. We are also listen to Slade and -77 punk bands from around the world, so there are probably influences from them too.

10. Do you prefer vinyl or CD and why?
Vinyl. Why? Looks better and feels better, maybe also sounds better sometimes even though now a days there are lots of new but still poor sounding vinyls, especially re-presses.

11. How it is in Finland whit the gigs...is it easy for skinhead band to find the place for playing?
There have been some big Oi! gigs in Tampere like The Last Resort, Condemned 84, Menace, Argy Bargy, Discipline etc. but for the past few years there haven't been any concerts here. For a skinhead band the biggest problem is probably that there isn't too big an audience here. Of course if you're bringing some band from around the world, there are always some idiots who are trying to find a reason to convince the gigplace owner that the band is a nazi band and tries to stop gig happening.

12. Do you prefer football or ice hockey?
Some members of the band are not really into sports at all, and some are. I think people should support their local teams. Ice hockey is really big in Finland, but the football-supporter scene is really growing too, also in Tampere.

13. Do you know anything about the Czech Republic and scene here?
Not really. Some of us have visited the Czech Republic and thoroughly enjoyed the visit (especially your beers), but we don't really know anything about the scene there.

14. Where we can order your stuff like EP´s or T-shirts if you have any?
Our EPs are sold in some distros, you can order them straight from the record labels who released it (BDS records or Skinhead Service). I think that Adler Versand also sells our EP at the moment.
T-shirts; many have asked about them but we have been too lazy to make any, but hopefully someday we will and maybe then you can order them from straight from us. Join our facebook group to get news about these kinds of things if you're interested!

15. Plans for the future...
Plans for the future is to make new 7" EP and we are going to make Split 7" with this GREAT band from Kuopio, Finland called Ultra Brewtality. Of course we are always ready to do gigs if someone asks us to play somewhere and if we have time to go from our work.

16. Last words....
Thanks for the interest in our band and thank you for the review of our EP. Cheers!