1. At first can you introduce your band, members, their age, work, hobbies and how you met each other?
On the vocals we have Wattie (23 years old), Louis on the lead guitar (22 years old), Daick on the rhythm guitar (28 years old), Pipa on the bass (21 years old) and last but not least Thomoi on the drums (47 years old). Apart ftom Pipa who's still studying, everybody is working. Wattie, Louis & Pipa knows each other for ages, we use to see Thomoi often and we knew he was the ex-drummer of Komintern Sect (a legendary punk/oi! band from the 80's) and actual drummer of the punk rock band Burning Heads so we just asked him if he would like to join the band and he accepted immediately. We knew Daick cause he was involved into the Parisian hardcore scene, he was (and still is) a very good guitarist, and, just like us, an oi! lover, so we asked him if he wanted to play with us and, as Thomoi, he accepted immediately. He's actually the newest member of the band, cause he only did a couple of rehersals with us, but he's doing great.

2. Your members have experience with bands such as Komintern Sect, Maraboots, Street Kids or Burning Heads, can you tell us something more about it (especially two last one, I didn´t heard anything about them)?
Well, Wattie & Pipa are playing in Maraboots (Wattie on vocals, Pipa on rythm guitar), Louis played in both Street Kids & Hard Times (as a guitarist in both bands, but he started in Hard Times as a bassist). Thomoi did the drums on Komintern Sect and is actually the drummer of Burning Heads and King Phantom. Daick is the guitarist of 2 hardcore bands, DIG and MOWOL.
So, Street Kids was a Parisian oi! band that existed from 2008 to 2011, formed by young skinheads. They recorded an album that was never released, but you can easily find it on the internet. Burning Heads is a pretty know punkrock band that exist since 1988 and who's still active nowadays. They do lots of gigs in France and in foreign countries and, at some point, were signed on Epitaph Records.

3. When and why came decission to start Lion´s Law and why did you choose this name?
We started the band almost a year ago (march/april 2012). At the time, Louis didn't have any band, but he really wanted to make music. He had some songs that he wanted to play, so he asked Wattie if he wanted to start something with him. They wanted to do something more "musical" than the average French oi! band. We choose the name Lion's Law because we wanted something epic, and to us, the Lion's Law represents the way you have to behave in today's society. You have to be the best or you're just part of the rest !

4. I don´t know too many bands from France singing in English, why did you choose English instead of French?
Well, it's pretty simple. Louis, who's composing all the songs, has more facilities to write and to express things in English. Also, we thought that English was the best language for the music we make, and wouldn't have been the same if we were doing it in French !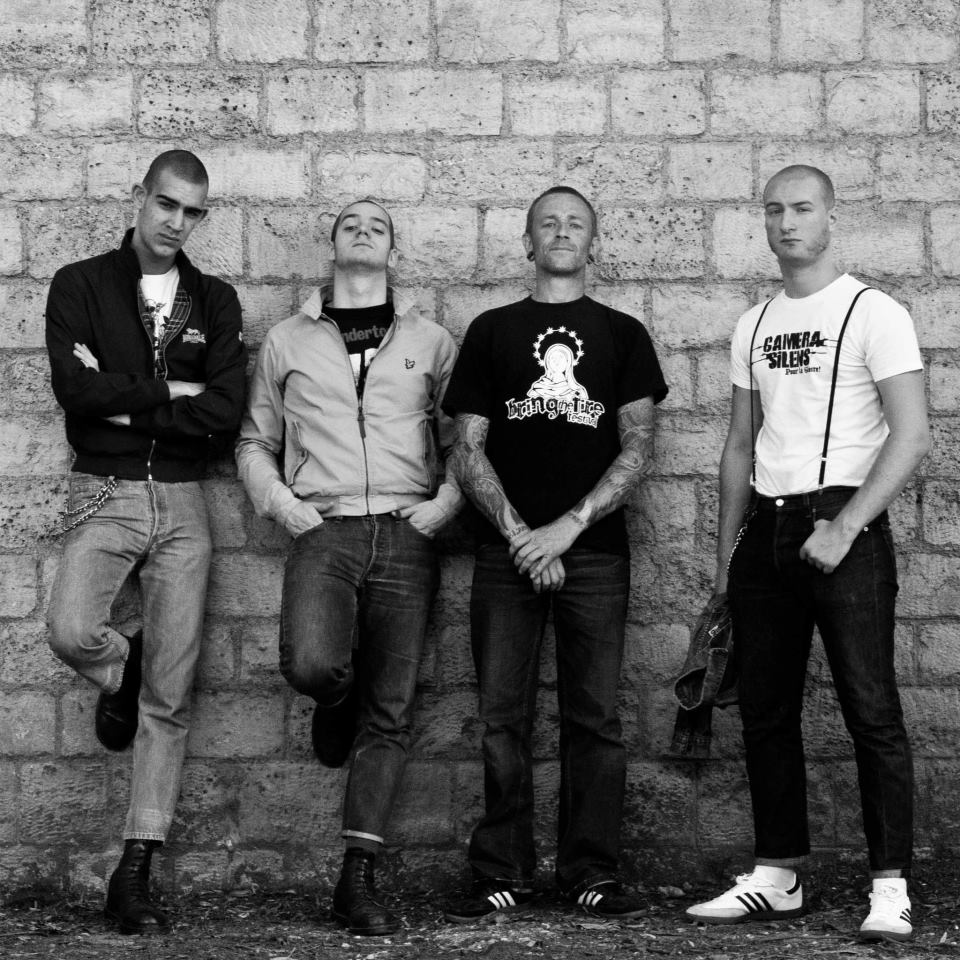 5. You have just released your debut EP Watch´em Die on UVPR Records? Can you tell us something about cooperation with this label?
We know Ben, the guy who's behind UVPR? since ages. We already worked with him in the past (with both Maraboots & Hard Times), and to us, UVPR? is the best French label today. Ben's really doing a great job, he cares about the bands he works with. There's a real feeling with him. Plus, he produces only the best French bands (Bombardiers, Janitors, 8°6 Crew,...). So when it's on UVPR, you can be sure it's gonna be great !

6. Your sound reminds me Condemned 84, Blitz and Oxymoron, can you tell us anything about your musical influences? Do you prefer older or new breed bands?
First of all, thanks for the compliments! To tell you the truth, we didn't thought about any of the three bands you quoted as our influences. We were rather thinking about Perkele, Alternate Action and Cockney Rejects. Basically, we like classical English bands from the 80's and the good modern oi! bands. Apart from that, everybody in the band have their own influences (from gay punk rock to the roughest Italian oi! bands). We don't have a preference for older or newer band, to us there are great bands from the golden 80's and band from nowadays who are as good as their ancestors.

7. UVPR is label mainly for vinyl collectors...are you prefer CD or vinyl and why?
We are total vinyl lovers ! You got that higly collectible thing with the vinyl that you don't found with the CD's. The format is way more interesting, in terms of object or packaging (insert, colors,...). But we can understand that people prefers CD because it's way easier to use (ever try to play a 33rpm in your car? Well, good luck !)

8. You come from the capital city Paris...can you describe the scene here...clubs, pubs, zines, crews, bands etc...?
The scene in Paris is quite small. Everybody know everybody, we try to make it live. We actually have quite young skins here (16 years old guys, still babies!). We have some quite good oi! bands (Maraboots, Gonna Get Yours, Survet Skins, 8°6 Crew). The skinhead scene is quite divided in Paris, we have 3 very distinct "divisions", which are the nazis/right wing guys, the reds/antifas and we, SHARP and non political skins in the middle. We don't have any clubs or pubs, but we hang out in the everywhere in the city. We have a meeting point in the district of Bastille (in the center of Paris) which is the record store called Born Bad (the best record store in Paris), which is selling every kind of rock'n'roll music, from old rockabilly things to new wave (and of course, lots of punk/oi! records), as well as clothes, fanzines, books,...
Wattie and Pipa are actually doing an oi!/punk webzine with another guy from Maraboots, updated every month, which is called Vengeance. They are doing reviews of old and new records, books, movies,... It's all in French (sorry for the non-French speakers), and the address of the website is http://oivengeance.blogspot.com. Have a look at it!

9. Can you describe the scene in France in general or it is different from town to town?
Well, you have bands everywhere in the country, and the scene changes from town to town. To us, the scene is really living in cities like Nantes or Rennes (in Britanny) or Lille (North part of France). You can find the best crews of skinheads in those towns. But as we told you, globally every city has its own scene and generally it's not like in Paris, since it's the capital, it's bigger and you have more people there. It doesn't mean that the scene is better in the City of Lights, it's just different.

10. Can you recommend us some new breed bands from France?
Well, you have great bands like The Headliners (punk rock from Nantes), The Daltonz (oi! from Caen), Bombardiers (oi!/punk from Bordeaux), The Janitors (oi!/punk from La Rochelle). In Paris we have two young punk band, Breakout (street punk in the style of the old Unseen songs, Casualties, and this kind of bands) and RU486 (who are doing a strange kind of female fronted punk rock, something between post punk and riot girl music, I really don't know how to describe it haha!).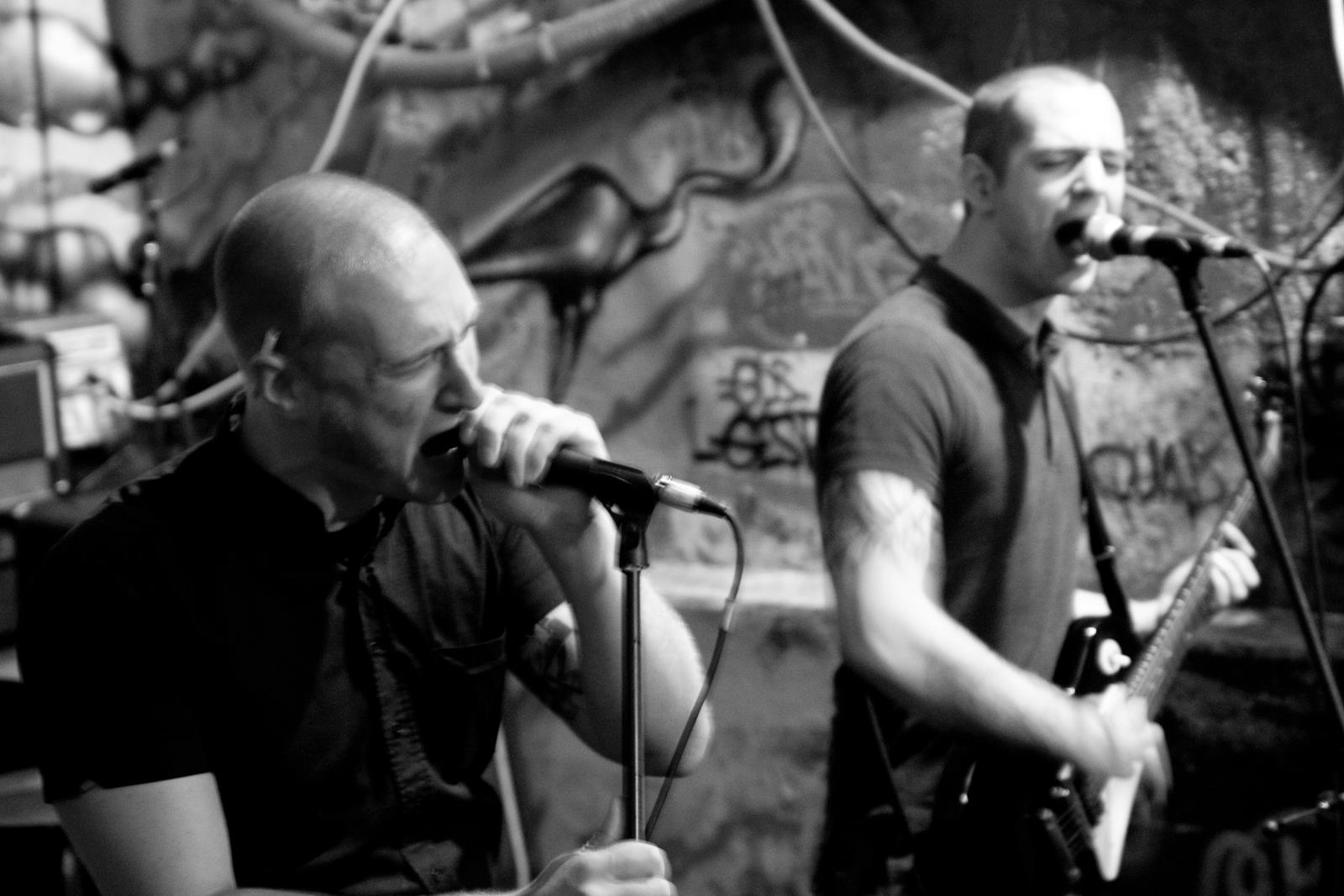 11. Do you like playing gigs and it is problem for a skinhead band in Paris (or in France in general) find the place for playing?
We really like to do gigs, in France or outside! It's actually quite hard to find places to play in Paris, usually it's in pubs or small venues (250 persons max., globally). We have bigger venues, but since we're not billionaires yet, and we don't have any subsidies from the state, we can't afford to book them. But still, gigs are always good here in Paris, there's always a good atmosphere.

12. Where can we order your stuff?
Well, you can find our debut 7" and the compilation we're on (called La Force Dans la oi!, a 7" with us, Maraboots, Larcin from Lille and The Fanatiques from Saint Etienne, out on UVPR?) on the the website of UVPR? (http://www.uvpr.fr) and on the main European distros such as Contra, Bandworm or Rebellion. The vinyl was actually released in 3 different colors: 100 blue copies (available only through UVPR?'s website), 200 red copies (available in the main European distros) and 500 black copies. If some of your readers are from the other side of the Atlantic, they can order our 7" on the American label Sydney Town (http://sydneytown.bigcartel.com) which is releasing a US only version of it, featuring a different cover and a poster (so they won't pay ridiculous high shipping costs!). We have some t-shirt to sell as well (they cost 10€), if you want one you just have to write us an email at lionslaw75@gmail.com, with the size you want and we'll send it right to you !

13. When we want to invite you for a gig...what are your requirements?
We usually ask for the travel + 200€, a place to sleep and good drinks ! Actually, Wattie & Pipa will play 2 shows in your country at the end of June with Maraboots (one in Prague and one in Brno), maybe you'll meet them there!

14. Do you know anything about Czech republic and the scene here?
We know bands such as The Protest, Saints and Sinners, Operace Artaban and I must admit that's quite all! We also know that your country is really nice, Louis actually went to Prague and he like it a lot! We also know few things about your country's history, such as the revolt of '68.

15. Plans for the future...
We are actually recording songs for an upcoming LP (it's gonna be finished at the end of March) that will be out on UVPR? and Contra Records. We have 2 shows planned in Germany (Duisburg on the 5/04 and Hamelin on the 6/04), 2 shows in Italy (Perugia on the 03/05 and Viterbo on the 04/05), a show in Paris with Stomper 98, Old Firm Casuals and Stigma (07/05), a show in Rennes with The Outcasts (18/05), a show in Lille (24/05), another one in Antwerpen with The Black Maris (25/05), then we'll be on the Back On The Streets festival in Germany (18/07) and finally on the Summer Riot Festival in Warsaw (16/08-17/08).

16. Words on the end...
Thank you for your interest, it's actually one of our first interview, so thank for the opportunity. New things are coming soon, so stay plugged, and don't hesitate to contact us for gigs (via our facebook page or our mail address)!