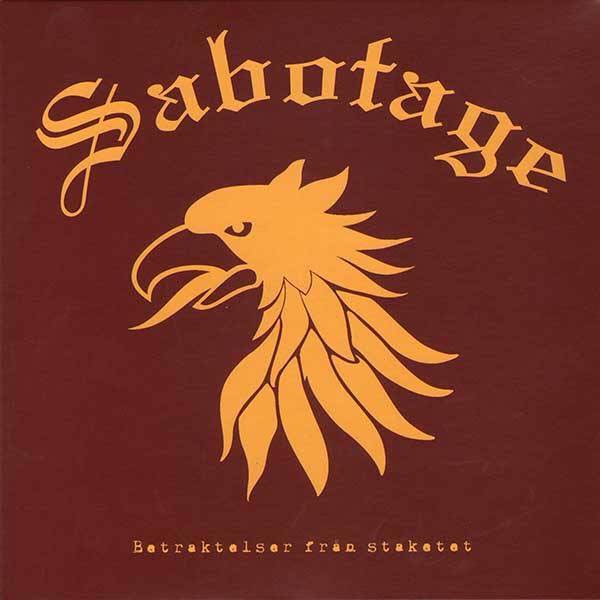 1. Hi, so at first can you introduce your band, members (hobbies, age, work) and tell us how you know each other?
Hi! We're Sabotage:
Robban, 34 (vocals) work at a school with kids aged 13-16 (not a teacher!), been playing punk and oi! since the mid 90's. Live in South Stockholm. Besides that I have a wife and daughter and enjoy fine ales and cheap wine/getting drunk, playing in bands, collecting records, reading, gigs (when we get to go out) etc...
Erik, 35 (guitar) lives with his girl, has got a daughter and works at a school (as a teacher) in the same area where he lives and grew up, Haninge of South Stockholm. He likes going to gigs, drinking, making up great guitar tunes and being out in the wild.
Matte, 39 (drums) work at a firesafe company, too build cables and control units. Live in South Stockholm with his Girlfriend and they have three daughters and two dogs. Beside that he's running and training and like to listen to old metal music and practice drums making new music with guitarist Erik.
Slebbe, 28 (bass) works with mentally disabled people. Live in the Haninge area of South Stockholm. Has got a lady and a son, playing psychobilly and rockabilly on his spare time when not getting drunk.
Erik and Matte are mates from their childhood in the Haninge area (South Stockholm) and have played hardcore together with Frontlash since the late 90's (started out as Last Warning about 1994). Me and Erik were the founding members of Contemptuous in 2003 and Slebbe is an old acquintance of the local punk scene, I (Robban) played with him in a very short lived project called Fenix also featuring Radar (Contemptuous and later Antipati) who only practiced a few times but whos songs ended up on Contemptuous' last demo among with a few other songs. One of them is officially released - From The Ashes from the compilation LP/CD with the same title.
2. When and why come decision to start the band and why the name Sabotage?
Robban: When we did the rehearsals with Contemptuous for the PSK reunion, Erik asked me (Robban) if I wanted to write lyrics for and record a couple of his old songs that he partly had written along with Matte during the Contemptuous days with their side project Blodörn (where Carl Fritscher from The Templars participated) or even older, and partly when he was living in the south of Sweden (Malmö) playing with Vindicate This! I was up for it, especially since I just had a couple of lyrics rejected by my then band Antipati because they were too politically incorrect or just "too vague" (not my words). Slebbe joined in when Sabotage started rehearsing for the second recording.
Always hard with names, and I remember we had a bit difficult to find a name that suited all... Sabotage was Matte's idea. To me it's good... international, short and catchy. Already taken for sure, but what the hell...
Matte: Erik and I wrote and recorded two (unreleased) demos back in 2003-2005 under the name Profane Division, on those demos I played drums and sang. All lyrics was in english. Erik played all guitars and bass. Those two demos include all the Sabotage songs that end up on the first EP and the upcoming 10". When we started Sabotage we reworked all songs. Some are played like they was on the demos but in a faster pace only, some has new beats and new riffs in it. Those songs was too good to fall into oblivion.
Yep I came up with the name Sabotage , I took the name from Black Sabbath´s 6th album with that title.
3. Your members have many experiences with playing in other bands like Righteous, Contemptuous, Agent Bulldogg, Antipati or Frontlash...which bands are active now and in which are you still playing?
Matte: I was the frontman for Frontlash we played our last gig in 2008 and I sing for Sleepless Nights a few years, and I also used to play drums for a black metal band called Aifur until last year when we brook up. Erik and I have a thrash/doom metal band called Profane nowdays.
Robban: Matte was with Frontlash and later on Sleepless Nights.
Erik was with punk band Sönderfall, Frontlash, Contemptuous, Sleepless Nights, Abjekt, Vindicate This! and now only in Sabotage.
I was in The Righteous, Contemptuous, Antipati and is currently playing with Agent Bulldogg (since 2008) and Sabotage.
Slebbe was in punk band Cunt Sucking Cannibals, and later moved on to the psychobilly scene to play with various outfits. Now he's in Zombie Space Pirates and rockabilly cover band Trailerpark Rejects aswell as Sabotage.
4. You have also rhythm guitarist Silvio which used to play in French bands Maraboots/Lion´s Law...how came French guy to Swedish band?
Robban: Yes, he is our first choice when it comes to doing gigs (only one booked yet) so we're soon starting to rehearse with him. I met Silvio for the first time in Italy when we were in Viterbo to play Tuscia Summer Fest with Antipati (although I met him briefly months before when we played in Rennes), could have been 2011 (?)... He was there visiting as he's half italian and have friends there and that was good since he spoke english fluently aswell as italian and there for was our intrepretor during our stay. We kept in touch and by coinscidence he later met a swedish girl visiting Paris, and the rest is history as they say. He's been living here for more than a year now (in the student city of Uppsala) and now Swedish is added to his lists of fluently spoken languages along with french, italian and english, very talanted guy. Now though, he has hooked up with Projekt 9 (replacing my brother who now plays in Agent Bulldogg and Avgå!), so I hope he will still have the time to do the guitar for us! (hint hint Sillen!)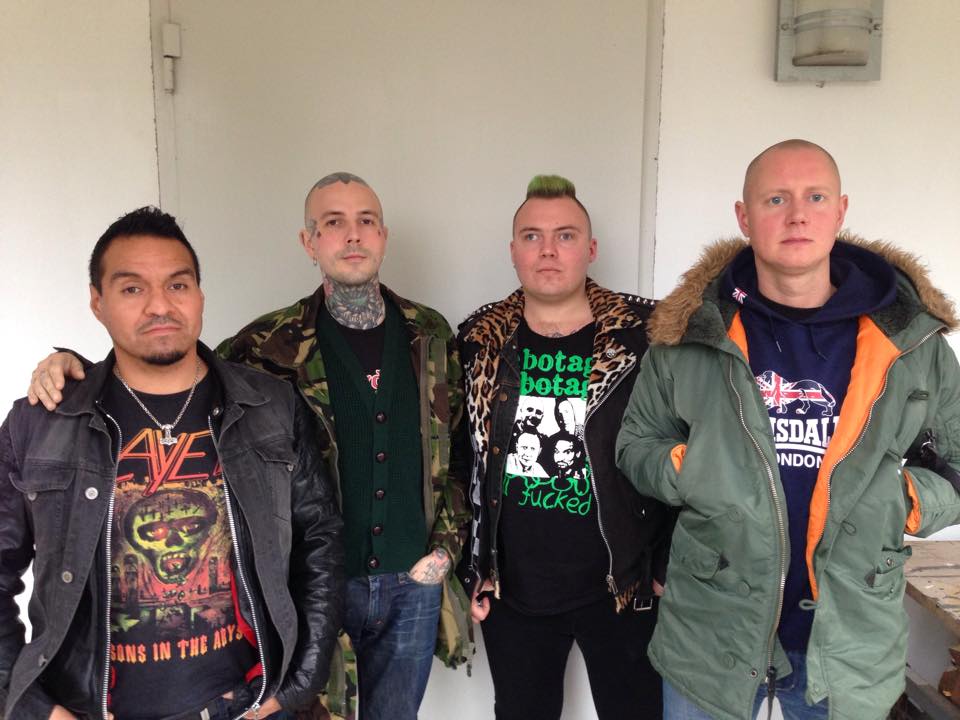 5. You have released EP Betraktelser från staketet EP on Pretty Shitty Town Records...are you satisfied with the sound and label? Can you tell us anything more about the cooperation?
Robban: Yes, I'm satisfied. PST always put an effort into making their releases a bit over the average and I think that was exactly the sound we were after. They're friends so there's no problem with communication. Next release (10"/CD) will also be released on PST.
Matte: yes ,I´m also really satisfied with PST and our last effort there, a really big thanks to the label boss Niklas his the man that has help us and belive in this band. When he "signed" us for the first EP he hadn't even heard our songs.
6. I made review of this EP last year - can you introduce it to our readers from your point of view and also told us more about the lyrics?
Robban: The lyrics are, in the cases of songs "Bättre Utsikt" and "Färdiga Doktriner" about thinking for yourself and not running with the pack of idiots being the fools of other idiots with dubious political agendas. I'm not a nazi for being against the commies nor vice versa, and even though people will disagree on the issue, it's the truth. I have no responsibility to declare my political views to anyone just because i'm a skinhead in an oi! band (or whomever I would be). Got a better view from up the fence. The song "Inget Tack" is basically about where we're at in Sweden now, turning into a shithole like the most parts of Europe.
7. It was recorded in three piece line up, where one member recorded both guitar and bass....what was the reason which forced you to move from just studio project to live band (I think you will have your debut gig on next Pretty Shitty Kjel in 2015)?
Robban: Well nothing forced us really... We were always open to the idea of doing a few gigs in the future, and when Slebbe was already in the band the idea was more realistic. Then we had the offer to play PSK which I personally have done every year since it started in 2010 (with Agent Bulldogg, Antipati and Contemptuous), and that's just a great event, a great stage to play and usually a great audience aswell so it was a fitting debut gig I'd say. We are still mainly a recording band, but we will take all gig offers under consideration.
8. Your sound is more into older punk rock like the Clash and I also hear in it Swedish band Stockholm United...what are your musical inspirations and do you prefer older or new bands?
Robban: It's funny you say The Clash because that is not at all an influence even though we of course, as ex punks (three of us) all have some sort of relationship to them :) ... Stockholm United is a reference I've heard from some other guy. I like them but I don't think we sound very similar. But I would say the only band we all can really agree on is The Templars (which I think could be reckoned as our biggest influence if there is one). Matte is a metal head with a past in NYHC and american Oi! ... Me, I'm well into everything punk/skinhead oriented with an extra faiblesse for the UK and french 80's bands while Erik's into a mixture of my preferences and Matte's, topped up with various other genres. Slebbe is mainly into the billy stuff.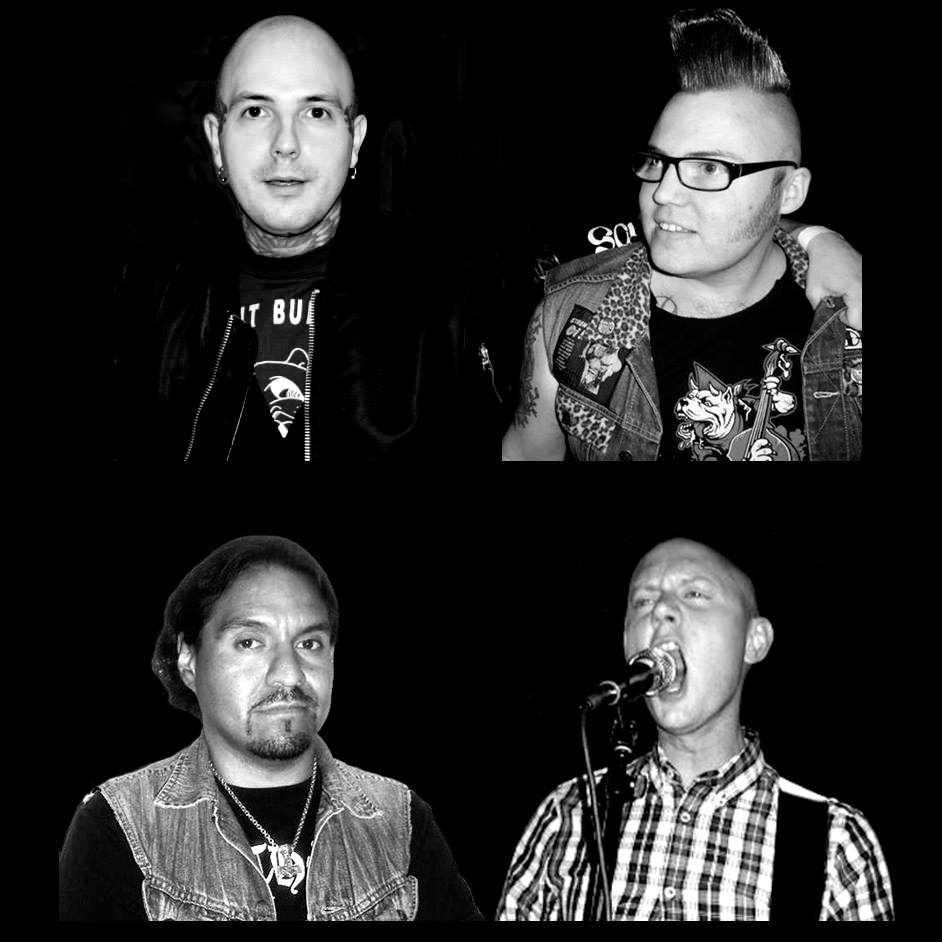 9. CD or vinyl and why?
Robban: Vinyl. Nicer looking, better sounding, funnier to collect.
10. You were now recording in the studio, can you tell us more about the new songs? I´ve read that Johan (Dims Rebellion/Agent Bulldogg) recorded some keyboard stuff into your songs....
Robban: Yes, it's six songs basically and they will be released on a 10"on PST as soon as possible, at least in time for the gig. There will also be a limited edition CD version with a bonus track - one of the songs with different lyrics (in english) and arranged a bit differently. Johan has been doing some keyboard addition to a few of the songs, one of them we released the other day as a teaser on youtube...
Matte: The songs we have recorded went out really great in the studio, is a harder and has a more edgy sound compared to the first EP.
11. You come from the city of Stockholm...can you briefly describe it from the tourist and skinhead tourist point of view?
Robban: The Venice of the North, the capital of Scandinavia etc etc... I think it's the most beautiful city there is, even though life on a day to day basis becomes as boring here as everywhere else. The bad things about Stockholm is the prices, especially the prices of alcohol. As a skinhead, there are a few pubs frequented by skins, there's the Helicopter Pad (gathering point for the skinheads during the 80's) to see, a few bigger gigs each year and smaller gigs every weekend with punk/ska/oi bands, a monthly club (Antisocial) and a small but rather tight scene with roughly no (or not very much) politics. A couple of stores for music and clothes would be Thrash Palace (second hand vinyl), Mods & Rockers (clothing), Sound Pollution (imported and new punk/oi/metal) and Stockholms Serie- och Skivhandel (second hand vinyl).
12. It is difficult to find a place for playing in your city?
Robban: No there are places to play, but not really good ones when it comes to sound etc..
13. What about the gigs abroad...are you thinking about it?
Robban: As I said, we'll take all offers under consideration :)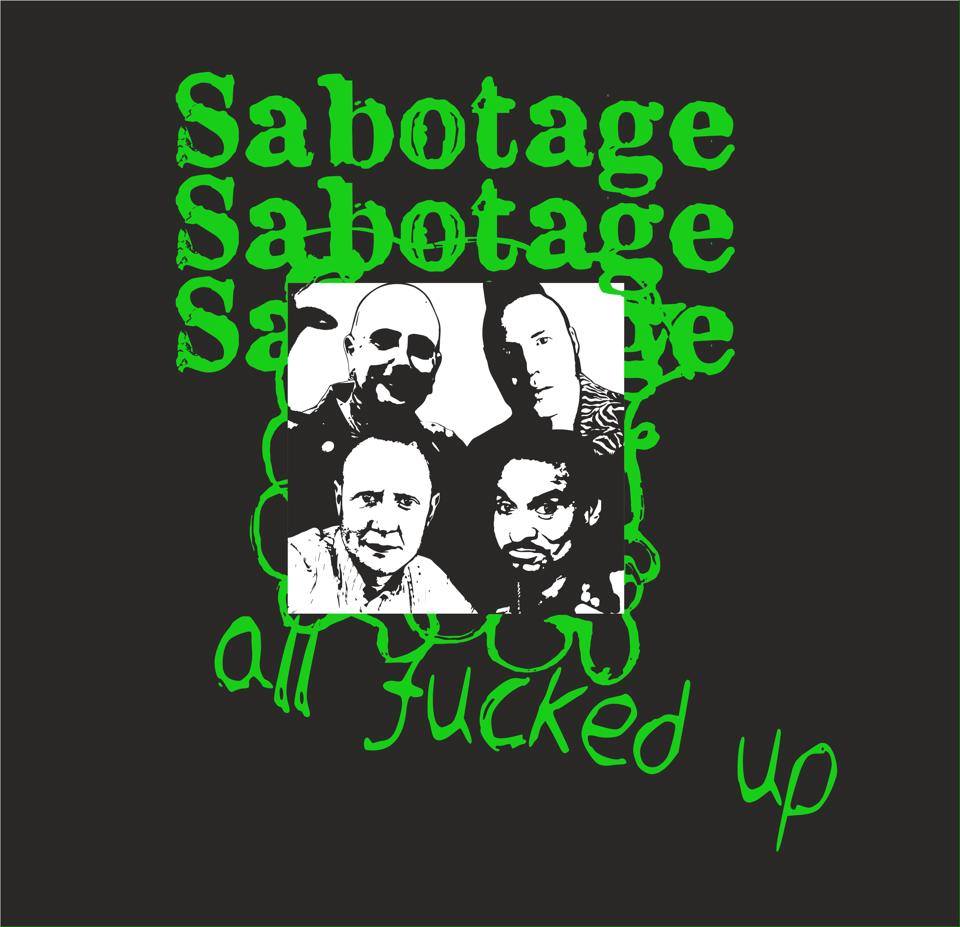 14. Do you know anything about the Czech Republic and the scene here?
Robban: Except for bands like Riot, Orlik, Protest, Disdainful etc I know you had quite a non political SHARP scene there in the 90's and of course I know about Vlad and his shop. I know a lot of czech beer, Bernard's black one being a favourite. The traditional food is really rich. We have a good Czesh beer hall/restaurant in Stockholm called Soldaten Sveijk.
15. Plans for the future...
Robban: Get the new songs out on vinyl, play the one booked gig. Already new songs are being made, so another 7" might be coming up within 2015 aswell.
Matte: Erik and I are working on a totally new song , and we also have one last song from the old demos with Profane Division that we will rework to use for possible new Sabotage EP in 2015.
16. Last words...
Thanks a lot for the interview, always a pleasure!
https://www.facebook.com/SabotageSthlm <--- Our facebook page
antipati124@hotmail.com <--- You can get in touch there too
Cheers!