I would like to introdukce you the band which will play in CZ on 20th November in Pilsen so maybe they convince you to come!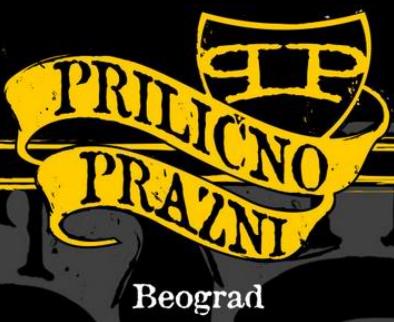 1. So at first classic question, tell us something about your band, members, history and how you met each other.
The band started in 1994 in Blok 23 in New Belgrade. As you probably know, the 90's were quite difficult time in Serbia with all the wars and political problems. We were all punk and oi fans. Starting a band seemed like the best solution to pass the time by doing something that we all like. There was couple of people who went through the band at first, but round 1997 the line-up was: Milan (vocal), Igor (guitar), Miki (bass) and Vlada (drums). For the first couple of years we played mostly in Belgrade and some smaller cities in Serbia and made few demo recordings along the way. Back in those days it was very difficult and expensive to record in local studios so we did all the work our self with the huge help from few of our friends who are with the band to this day.
Milan, the singer and co-fonder of Prilično Prazni, left the band in 2003. Beli stepped in and we begun preparation for the first album which was released in 2004. Situation with record labels in Serbia is very bad, so we decided to do the whole work of distributing and promoting our self. Word got around quickly and we started receiving invitations to do some gigs abroad. Although it was very complicated to get out of the country because of the visas, we managed to do few good gigs in the countries in the region (Slovenia, Bulgaria, Macedonia, etc.). Also we shared the stage with some legendary punk bands on gigs in Serbia (Sham 69, Last Resort, Section 5, etc.)
Our second album was recorded in 2007 and released in 2008. Since then we had many gigs, local and abroad and played with many great bands.
2. When and why came decision to start the band and why the name Prilično Prazni...what does it mean?
We took the name Prilično Prazni from an old band that our friends had in the late 80's. That band lasted only for couple of years and did not have any recordings but it was very important for us to continue their "glory". The name came from the translation of Sex Pistols song title – Pretty Vacant.
3. What are your musical influences and who is responsible for writing music and lyrics and can you tell us what are you singing about?
We were influenced mostly by British punk and oi bands of the first generation. The bands like The Clash, Sex Pistols, Cockney Rejects, Stiff little Fingers, The Business, Cock Sparrer, The Adicts, etc. are our main musical influences from day one. We all do some music and lyrics. We sing about every day life, living in Belgrade in Serbia at this particular moment. The politics and every day struggle are something we just can't avoid. Also, there are some songs dedicated to our friends and our city.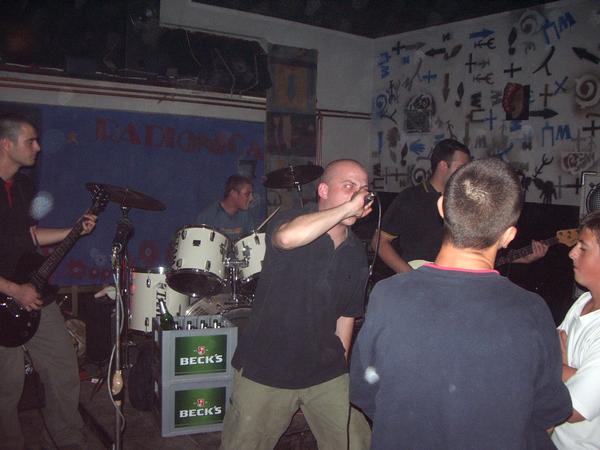 4. Can you describe your discography and tell us something about labels you cooperate with?
The first songs we released were on the compilation Beogradsko proleće (Bad Man Records, 2003) The songs were Fight to survive (later released on "Jedan minut nije dovoljan") and Psycho (Condemned 84 cower)
First album "Jedan minut nije dovoljan" was released in 2004
Second album "Samo borbeno" was released in 2008 by I.C.S.
5. What about the gigs in Serbia? It is difficult to find a place for playing?
It can be very hard to organize a gig in Serbia. There are no venues available for any type of underground music so those type of bands play mostly small clubs. The conditions are often very poor and there's not enough people going to those gigs. So, the situation is not great.
6. Can you describe the scene in your area? Bands, pubs, crews, zines etc...?
It's very hard for me to describe local scene. I can definitely say that the scene is divided. There are no decent promoters and there's never enough audience. Lack of money is the main reason stopping the people to visit gigs regularly. All we can do is keep going, do our best to overcome the problems and don't let those things hold us down.
There are some old bands still playing like Šaht, B.OL., Potres… But most important thing is that despite the situation, new bands are emerging. Band Pogon BGD is one of them. Definitely worth listening to, one of the best bands around.
7. How the scene survived wars during 90´s? Also many people are thinking about separation of Kosovo from Serbia (mostly standing behind the Serbian nation)...what do you think about it?
It's weird, but the local scene was much better and stronger back in those days. Many people saw the music and things around it as the only way out.
Kosovo problem is probably something new for people round Europe but the tensions and problems are several decades old for people in Serbia. As you know, it all escalated in 1999 when Serbia was bombed by NATO because of that. The biggest problem is that people are manipulated into hatred towards the other side by political leaders and it certainly can't bring any solution to the problem.
8. It is difficult for bands from your country to get well known in Europe?
Well, it's much easier now because we can travel without visas but it will probably take some time for people in Europe to get used to bands from this region. Also, there are so many bands and music from all around the world and it's accessible to everyone so it's much harder to get well known. There's also a language barrier.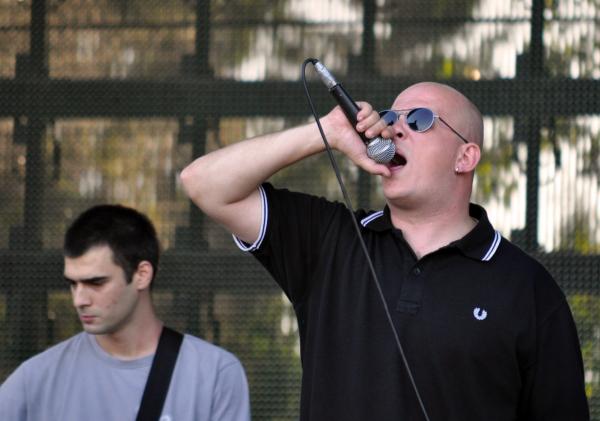 9. Do you know anything about Czech Republic?
Of course, we know a lot about Czech Republic. We know about you recent history, when your country was called Czechoslovakia. In some way our countries had similar paths only you were lucky enough to overcome the differences without wars.
Mostly you're known for sports and great beer.
10. When can we buy your stuff like CD´s, t-shirts, etc...
We don't have a distributor in Czech Republic but we shall bring some merch with us on gig in November.
11. Plans for the future...
We plan to do as much gigs as we can and have as many beers along the way.
12. Last words...
Greetings to you all. Thank you for arranging the gig in Plzen. We are really looking forward playing in Czech Republic for the first time. We hope it will be a good gig and that we'll all have a great time. CHEERS!
PRILIČNO PRAZNI:
BELI – vocal
IGOR – guitar
MIKI – bass
VLADA – drums
Discography:
- BEOGRADSKO PROLEĆE (V/A Bad Man Records, 2003)
- JEDAN MINUT NIJE DOVOLJAN (2004)
- SAMO BORBENO (2008)