1, So at first, can you told us something about band history, members, hobbies, how you know each other etc...?
The band started mid '05 and had our first gig late '06. Myself (Barry) and Glenn (lead guitar) met at a local punk show and i said that i was looking to start an Oi! band. Glenn was also looking to start a band at the same time so the timing was right. We quickly got a line-up and started practicing. The first line-up was Barry - Vocals, Glenn - Guitar, Lee - Bass and Brett - Drums. We played for about a year with this line-up. When Brett was gone, Viktor from Mouthguard asked if he could play 2nd guitar with us and Todd joined as our new drummer. After moving to Australia in '04 we just got to know each other from going to gigs in Brisbane and the Gold Coast. Pretty much everyones hobby is the band and music.
2, Now you released album called All Or Nothing, it is your only recorded thing or have you got something else?
"All or nothing" is our debut ep. the 6 tracks on that are the first professionally recorded tracks we have done. We did a free recording session for a student engineer and that track "Heed the call" is on our Myspace page along with 2 tracks from "All or nothing". there are some live recordings and practice recording floating around but hopefully they will never see the light of day.
3, Now question for Barry, I know you are singing and playing guitar in Skint, how did you get yourself to Australia? And can you compare the scenes in Ireland and in Australia?
I met an Australian girl and decided to move to Australia. Australia is a huge place!!! as big as the USA but only 6 or 7 major cities and ALOT!!! of desert!!!! so it is very hard to compare Ireland to Australia. Maybe Europe and Australia? but the scene in Brisbane is very similar to the scene in Dublin. Sydney and Melbourne are probably the cities with the biggest punk/skinhead scenes. I don't really know anything about the scenes in Adelaide or Perth.
4, Which bands influence you in making music?
This a very difficult question? Bands that i think influence the band might not be what people who listen to it hear? Theres are lots of things that influence us as a band. Everyone in the band loves Oi! and punk but if you ask each band member youll get 5 different answers and when you write a song everyones different style of influences come into play. Bands ive loved and listened to for over 20 years influenced us at the start. New bands with new and different influences that you listen too also play a part. Basically when we started the band myself and Glenn had very similar ideas on what we wanted. Very hard hitting, yet catchy Oi!. Lees more punk influence and Todds slight hardcore styles helped form the sound. We never set out to create a new sound??? and we didnt just play what we like basically. Bands like Cock Sparrer, 4 skins and Indecent Exposure together with later bands like Blood for Blood, Discipline, Oxymoron even Rose Tattoo and Aussie pub rock also. Now i dont thing we sound like these bands but there ya go..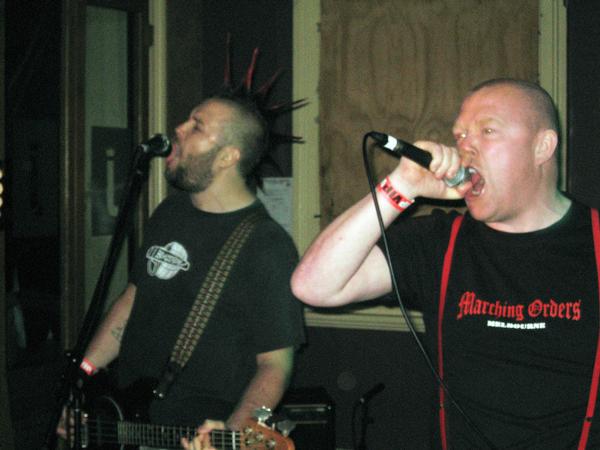 5, Can you describe your music and sound to our readers?
Shit! this question is harder than the last one!!! I think its hard Oi! mid tempo (some faster), catchy chorus, punchy backing vocals... i can go into as much detail as the previous answer but i'd just be repeating myself. Basically its Hard as fuckin' nails Oi!!!!!!
6, How is it now with scene in Australia? I know many good bands from there so can you recomend us some good one?
As i said earlier Australia is a huge country... actually a huge continent!!! but the good thing is alot of the bands travel and are in good contact with like minded bands in other cities... you probably already know most of these bands...
In Brisbane there's us, Mouthguard, The Disables and Brixton Rockers (both very Clash influenced)
In Sydney there are some excellent bands, THUG, RUST, The Corps and the Rumjacks (one of the better folk influenced punk bands). Alex from The Corps has started a side project that ive heard good reports about but have yet to see or hear.
In Melbourne there's Marching Orders, Bulldog Spirit, Slick 46, The Countermeasures (Doug from BS's side project, very Slade, Undertones, Sugar Oi! driven), Stranglehold (Ben and Brod from MO side project with female vocals, sound like a cross between Blitz and the Distillers)
In Perth theres a band called the Homicides that are good
Canberra ive heard has a good scene and there seems to be a lot of Hardcore bands there.
7, Do you know anything about Czech scene, and do you know some Czech bands? I think both Skint and Mouthguard played in Czech rep.
Vik was born in Czech and has spent a lot of time there over the last few years, he would know more about the Czech scene at the moment. Its been nearly 9 or 10 years since i've been in Czech with Skint. When i was there i had a blast, met some great people that i still keep in contact to this day. Played with some great bands, drank some great beer... I still listen to the first Protest album. some of the newer bands im not that familiar with but the bands that have been around awhile or were playing back then that i remember are Operace Artaban, Incident 96, The Riot, Pilsner Oiquell and Disdainful are the ones that come to mind. Czech Rep and Germany were my favorite places to play. In fact my favourite "Tour Story" happened in Czech. I will share that story only over a beer or ten!!!!!
8, How it is with gigs in Australia? Are there any crew which is inviting for example any Europian or US bands?
We usually play in Brisbane on or twice a month, so local gigs are easy enough to do. We have played in Melbourne with Marching Orders and The Countermeasures. Slick 46 were supposed to play also but it clashed with their US tour last year. We are trying to get down to Sydney soon too. The problem with international bands coming over there are huge distances between the major cities where the bigger scenes are. Sydney is a 14 hour drive from Brisbane, Melbourne is a 22 hour drive. Adelaide and Perth are further again. There are smaller cities in between but the crowds aren't as big. So you need to fly sometimes and that ads to the cost. There was a promoter in Melbourne that brought over Sham 69, the Business, Peter and the testtube babies and SLF. he lost money on everything except SLF so he has stopped. Personally i think he made some stupid mistakes and it should have worked. But at the same time another promoter from New Zealand brought over UK Subs for a tour of Australia and NZ and that went very well. The Dropkick Murphys play roughly every 2 years and sell out 1000 plus venues, they also get bands like Mouthguard, THUG, Bulldog Spirit and Marching Orders to play with them, which gets those bands some great exposure to people that wouldn't normally come and see them. For newer or smaller bands to come here its hard to get someone to pay their airfares.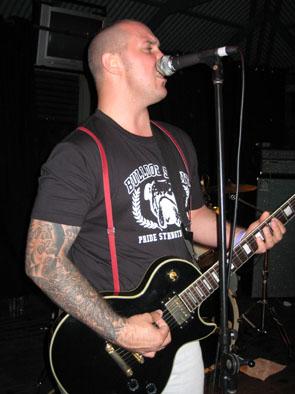 9, Some bands from Australia are doing Europian tours like Victor´s band Mouthguard or The Corps, can you imagine something like that with the Plan of Attack? It will be maybe easier because of Barry´s and Victor´s contacts in Europe.
We would love to tour Europe, organizing the tour is the easy part. The hard part is raising the $1800 airfares each???? it would be way too soon to tour now, maybe if this ep sells well and there is a good response to a future full length we can plan a tour around that. Everyone in the band would go to Europe in a heart beat if we could afford it. Its some thing that we can plan for and start raising the cash.
10, What about sport are you fan of some? Here in Europe skins like football(soccer), are you going to support some team in any colective sport?
At home i used to go the the Dublin matches all the time (Gaelic Football). I sometimes go to the Aussie Rules football here. Viktor goes to the football here a bit (Brisbane Roar), I know Todd likes Rugby League. Lee and Glenn don't really like sports that i know of.
11, Have you got any merch except the vinyl and CD? Like T-Shirts etc...?
We have T shirts available from the band and from www.pugmusic.com who also stock other great Aussie bands. No CDs over $20 australian and cheap postage. visit the site and check em out.
12, What about the gigs..it is easy or difficult to find place for playing for Oi!/punk band?
Locally gigs are fine, but theres only been a couple of Oi! or Streetpunk gigs only. Usually we play with a mixture of bands. We have played with Hardcore, Folk Punk, Crusty, and Ska bands on the same bill!!!!! Actually probably the biggest line up of Skinhead bands was in Brisbane. It was Marching Orders, Mouthguard, RUST, Plan of attack and a Ska band called Suspect 7. Mind you most of the skinheads at the gig were in the bands... ha ha ha... There is also a great venue on the Gold Coast (Shed 5) its a small factory unit in the middle of an industrial estate and you bring your own booze!!!!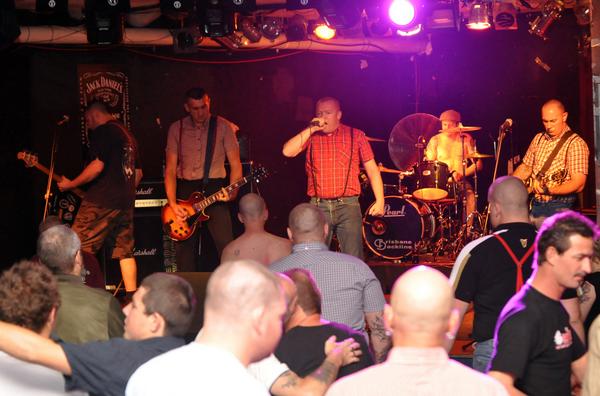 13, Plans for the future?
At the moment we are playing gigs to promote "All or nothing". The money we raise from this release will go towards recording a full length. We are also writing songs for this release and are only 3 or 4 songs off. We dont rush them so that will take as long as it takes but we are aiming to have it ready for release by late 2010. We also plan to get to Sydney and back to Melbourne again. There was talk to ourselves and RUST going to Adelaide or Perth this year too. Once we have done that we can try plan a European tour!?!?!?
14, Last words, greetings..etc..
Last words and greeting???? you dont know how lucky you are it me answering this and not Viktor!!!!
Id like to say hello to all my friends and people that we had a great time with there... you know who you are... and thanks for the interview. Contact us at www.myspace.com/planofattackaus or barryskint@hotmail.com
Cheers, Barry and Plan of attack
This interview was made with cooperation of Still Crucified zine (http://stillcrucified.com/)