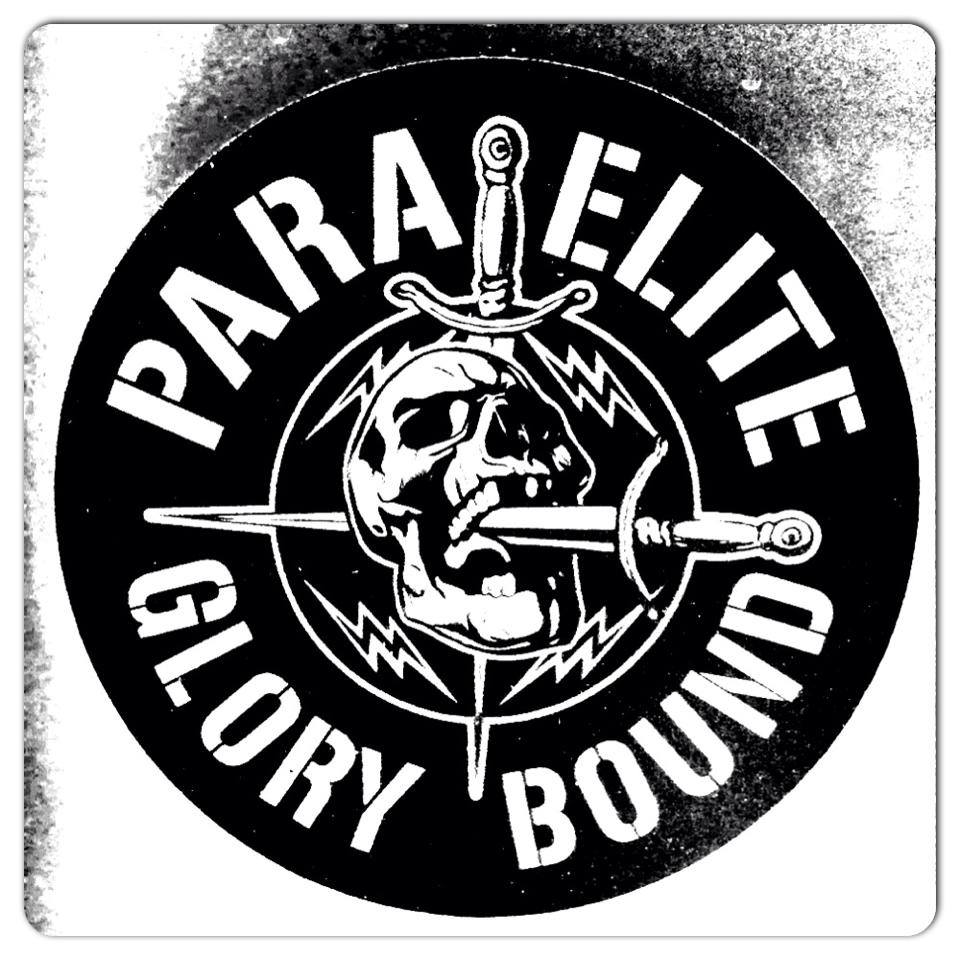 1. So at first can you introduce your band, members (age, hobbies, work, etc...) and how you met each other?
Sean (vox) - Tattoo artist, owns an acclaimed tattoo studio in SoCal, Jason (guitar) - graphic designer, Robert (bass) - classic vehicle restorer, Tony (drums) - restaurant manager, Cliff (drums and eternal spiritual member) - official hooligan and truck driver
2. When and why came decision to start a band and why the name Para Elite?
The band originally started with our bassist Robert and original guitarist Tai, who got together and wanted to form a band. They talked with Cliff Warby from classic Condemned 84 about playing drums from long distance which he agreed to. They liked Sean's vocal style and stage presence so were able to get him to sing since Sean was looking to start a new project different from his previous band, White Flag Down. Sean wanted a band that was more "skinhead" rather than rock n roll punk. Because Cliff lived a few thousand miles away, a friend of Tai's came on drums to play locally, write songs and record. 4 originals were written and Cliff came out to record the songs for the split LP with Total Annihilation on Skinflint records. Cliff also played Para Elite's first gig in Southern California, doing a set of the 4 originals and singing on covers of Wonderful World (4 Skins) and Skinheads (Condemned 84, which Cliff wrote). A few months later, Tai and drummer JB decided to leave the band and Sean asked Jason, who was the band's "silent fifth member" anyways, do play guitar. Prior to that Jason was doing the artwork for their records, shirts, etc. Jason got his friend Tony whom he had played with a few years earlier to play drums which brings us to the present lineup of Para Elite. And that is where we are today.
3. I know your singer used to sing in White Flag Down and drummer used to play in Condemned 84...have any of other band members some experience in playing in different band?
Drummer Tony was the original drummer for well known socal punk band Rhythm Collision for many years, in addition to other smaller bands over the years Guitarist Jason played in early 2000s oi band Lonesoldier, and plays local guitar for oi band Brassic during their practice sessions Bassist Robert has played in a myriad of hard rock/indie cover bands as well as jazz quartets
4. Are White Flag Down still active?
Not currently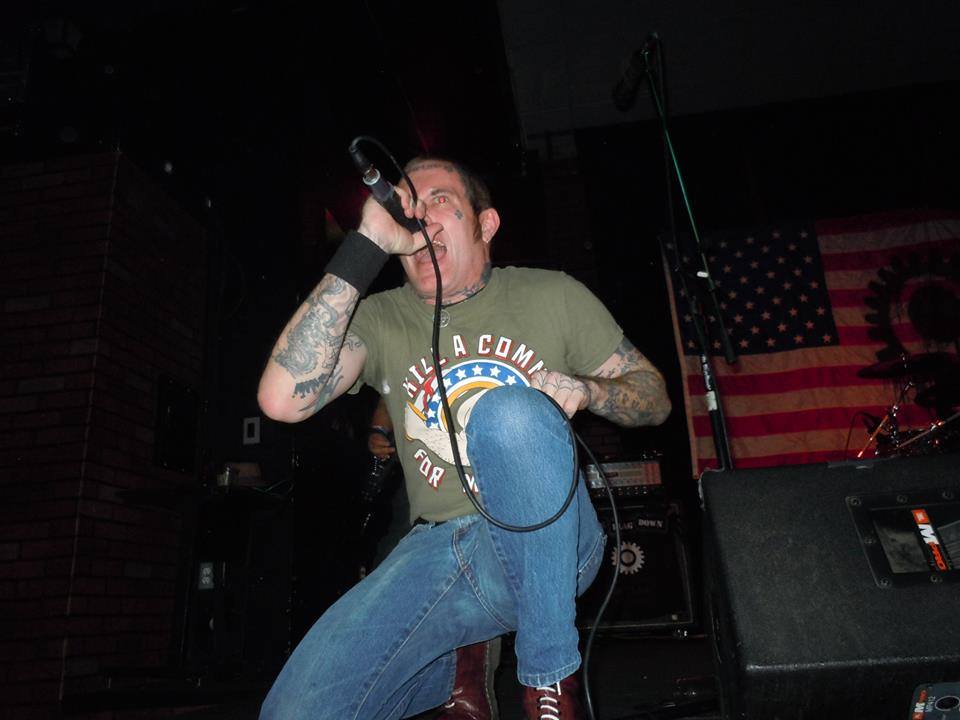 5. How do you came in contact with your drummer Cliff and did he played in some other band here in States?
Tai and Robert contacted Cliff before the band formed to see if he was somehow interested in being a part of the project. I do not know if Cliff has had any active bands in USA but he has expressed interest in re-forming his old pre-Condemned 84 band, Criminal Tendencies, and having a USA version of it.
6. You have released split album with Total Annihilation on Skinflint Records...how was the cooperation with the label and are you satisfied with the result?
Yes, Dave at Skinflint records is very easy to work with, and open to ideas. He is also very good at promotion and distribution and runs his label very professionally which is appreciated. Considering Cliff had 4 days to learn the songs and then go right into studio to record he did a great job and we are all very happy with the results. Skinflint has been fantastic in promoting the record and making great pre-sale packages for those who are interested in saving money on LP/CD/Tshirt/Patch combos.
7. Can you introduce your songs to our readers?
The split LP with Total Annihilation on Skinflint Records has 4 originals and 1 cover. Patriot is self explanatory, about being proud of your country, its people and customs. Not necessarily the government as we all know that they do not serve the best interests of their citizens. The song also goes against left wingers who seek to inplement socialist/neo-communist philosophy into our system. Battle Cry has a slight hard rock sound to it, we feel it is the most "unique" song in our set. It is about each person being his own warrior. Hang the Bankers. We are very proud of this song as it deals with how the history of conflict in nearly every country comes down to one thing, the men in control of the banks. We're not talking about the manager of Wells Fargo Bank, but the higher ups, that pull the puppet strings of politicians, Presidents, Kings, dictators etc. People need to understand that almost every instance of violence and suffering is ultimately linked to the Bankers in control. If people are educated and can recognize the symbol we used on our Hang the Bankers tshirt design in the noose, then you are ahead of the game already. I Don't Wanna Hear. This song is about BS that gets told about you thru rumors and how when you confront the shit talkers they often back down and backpeddle. It's easy to say anything about anyone as there will always be gullible sheep who are ready to hear and believe any lies. Skinheads. This is the classic Condemned 84 song that Cliff Warby wrote back when he was in Condemned 84, and it was a huge honor for us to have him sing the song which I don't recall has ever been recorded before.
We have 2 new songs finished now which are called Who's To Blame and Glory Bound that we can't wait to release soon. Our lyrics are about issues in society, politics, our world, our country. We do not care about Oi Oi Oi having a laugh and drinking beer on Friday night songs. We want our songs to have an intelligent message, hopefully bringing up issues that people do not think or talk about. We are not 18 years old anymore so do not want to write songs like an 18 year old would write as it has been done 100s of times already.
8. What are your musical influences...do you prefer older or new breed bands and Europe or American bands?
1980s oi, especially British. We tend to prefer older bands, and most of the classic ones were from Europe, but of course we love all of the old classic American bands as well (Anti Heros, Forced Reality, New Glory, Arresting Officers, etc) But our biggest influences are British oi bands like 4 Skins, Last Resort, Cockney Rejects, Condemned 84, Skullhead, Combat 84, Skrewdriver, etc. We also love early punk like Menace, Slaughter and the Dogs, Sham 69 etc.
Of course there are many great new bands worldwide that we support, but our influences come from the good old days.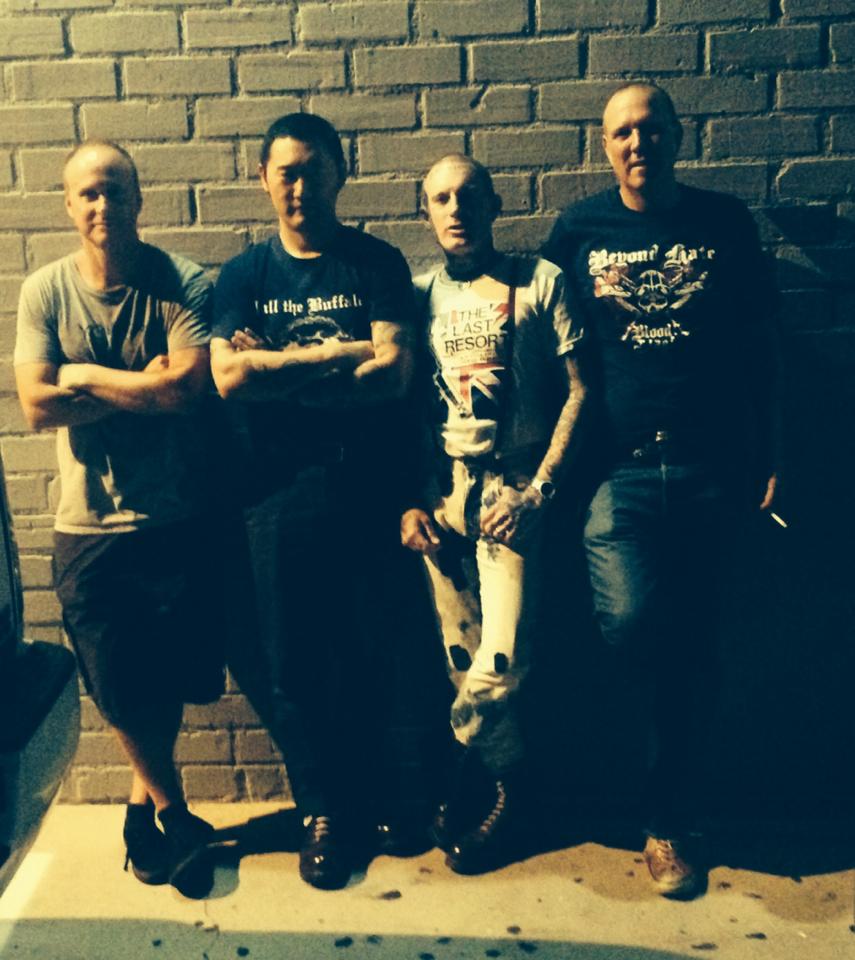 9. Are you more into vinyl or CD stuff and why?
Vinyl! We all grew up in the 80s, so we grew up collecting vinyl. CDs are fine, we like them too, but if we had to choose how we'd buy our music it would be vinyl.
10. You come from LA...can you tell us more about the life here....?
I assume you mean skinhead life in LA. Of all the cities in America, LA probably has one of the most polarized scenes. There is always conflict between "PC Skins" and just "skinheads". Unfortunately in LA, many feel that you MUST be "SHARP" otherwise you are a "nazi". It is very closed minded, and many who are old enough to know better still act like they are in junior high school. What is ironic is that the non-PC shows are probably more racially diverse than the PC gigs, but they just call everyone who comes out to be "brown nazis" "yellow nazis", "black nazis", it's ridiculous. They enjoy finding boogeymen in places they don't exist. So it's fine, they have their scene, and we have ours. There are some skinheads who go to both, and that is great, but it's funny because they will be told by the PC Skins, not to come to our shows or face retaliation and attack. But we never tell anyone what show he can/cant go to, we want people to do their own thing and go wherever they want. So who's the real "fascist"??
11. Can you introduce LA from the tourist and skinhead tourist point of view? What should we visit in your country (pubs, bars, clubs, football, hockey....)?
LA has some of the best food in the country/world. Everyone raves about NYC, but I think that Los Angeles has come very far and we can definitely compete with any major city in the world for top notch food. Especially our Mexican food which must be the best in the world, even better than in Mexico. So for anyone coming to LA, we would recommend eating some good street tacos or any average Mexican restaurant will be miles better than anything found elsewhere. As far as "skinhead tourism"....hard to say but there is a shop on Melrose Ave called "Posers" which has one of the largest collections of Fred Perry, Ben Sherman, Merc, Lambretta, and Doc Marten under one roof. Seems anyone who comes to LA always visits this store. To be honest Para Elite are not the biggest sports fans so it is hard to recommend any sporting event, but I know many in town support the MLS soccer team LA Galaxy. If you come to LA from Europe, of course Disneyland is always a must see! If you like hockey then going to a Kings game is probably fun, as our LA Kings are the current Stanley Cup champions.
12. Is it difficult for skinhead band to find a place for playing in your city?
It's not too difficult to find places to play, but there arent as many active bands as there used to be so it's hard to put together a show that isnt the same bands every time. There are enough places one can book shows, but oftentimes we have to keep ours undisclosed, not because it is a racist show, but because the PC Skins have been known to call in real skinhead gigs to the venue or local police, and say there is a nazi gig happening in their bar. Then the PC Skins will say we don't disclose the location because it is a nazi gathering which is untrue. We just don't want the show to get shut down because someone phones the venue and lies about what is happening.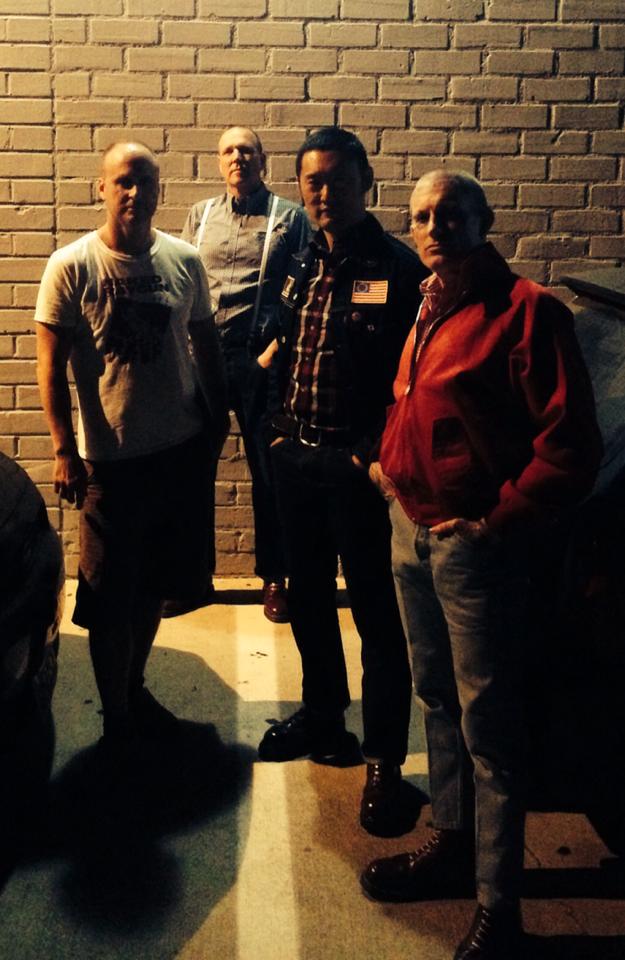 13. And what about the gigs in general...do you like playing live?
The band has played live twice so far, which both went very well. We have another show planned for end of year, and we are very excited to be a part of the big NYC 2015 Oi Fest in May!!
14. Do you ever think about touring Europe?
Of course playing in Europe would be great, but it's very difficult for the band to take the time off however to do so, since we are all entrenched in jobs etc where we cannot take that much time off.
15. What about Czech Republic, do you know anything about our country or scene here?
I know Prague is considered the "Paris of Eastern Europe". Czech Republic is one of the European countries I would love to visit. Everyone I know who has gone there has loved it and said amazing things about Czech. Also I know you have some of the most beautiful women in the world in Czech!!! As far as bands, I know of only a few like Orlik and The Riot.
16. Where should we order your stuff (t-shirts, albums, patches...)?
www.Skinflintmusic.com has our upcoming split LP with Total Annihilation (5 songs each band) as well as package deals with Tshirts, and patches and CD copy come free with each Vinyl record!!
17. Plans for the future...
Write new songs, an EP is planned for early 2015, and we look forward to the big NYC gig in May 2015. We want to keep real oi music alive in California that does not cater to the new breed of PC oi music.
18. Last words....
Thanks for the interview. Hopefully people will think for themselves when it comes to Oi music and the skinhead scene, as there is a lot of sheep mentality going around where bands are called Nazis because they will not tow the PC line. Go to whatever shows you want to go to, listen to any bands and music you want to, don't let anyone else dictate how to live your life. The original skinhead attitude of rebellion is lost today, people feel like they need to get the "OK" by the scene police to listen to music and go to gigs. This goes for both ends of the spectrum, left or right, who cares at the end of the day, no one should be telling you what you can or cannot do.