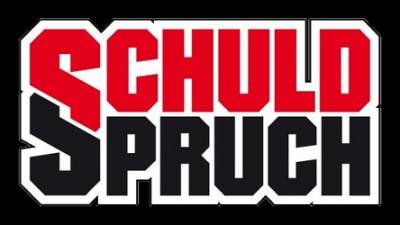 1. So at first can you introduce your band, members (hobbies, age, work…) and tell u show you met each other…
Der Henker: Hai hai hai Peddy. We are SchuldSpruch from good old Gemany.
The Members are:
Der Henker: Drummer / paper-pusher and butcher / fat, ugly and old
Der Richter: "Singer" / something with eyes / baldy, angry and older.
Der Folterknecht: Guitaracist / something with computers/ long, stinky and even older
Der Büttel: Bassist/ something with poo / hairy, tiered and close to death.
Der Richter and me (Der Henker) we played before in a Band called "Stärkste Minderheit". After two members leaved the band we agreed to continue together. At a concert in Berlin i met the Richter on the toilet. We know each other and i heard that his former band splited too. So, after i finished laughing of his tiny dick i forced him to start with us a new band. After some meetings he were in the boat;) The Büttel came after a short time later, because there can´t be a Band in Berlin without him haha. Thats was the beginning of SchuldSpruch.
2. When and why came decision to start a band and why the name SchuldSpruch? Is it first band for your members?
Der Henker: Like i say, the Richter and me played in a Band, but after the split we wanted to continue making music together. He had written many songs and i just wanted to make some nOi!se;) And now we judge since 2011. Everyone of us played in other bands before an one of us had more bands at the same time, but its too much to write and doesn´t matter;)
SchuldSpruch means "verdict of guilty"..Der Richter had the idea for this name..it sounds good, and it fits perfectly if you read our lyrics i think.
3. You have out EP on Shout Proud Records and full album on Street Justice…how do you find those labels and how are you satisfied with their work?
Der Henker: We are very happy with these great Labels. It was a lot of luck to find them.. I thought we were getting in contact with shout proud records with a little help from a friend of us and the same with Street Justice. They were doing a great job and we appreciate what they do for us. Oi Oi Oi to both!!!
4. What are your musical inspirations, do you prefer older or new breed bands and do you listen also to other stlyes instead of Oi!, punk, …?
Der Henker: ufff...i´m in German Punk and Oi! from the 80´s and early 90´s. I dont like the most of the "new breed Oi!" Bands. There are some good bands, but for me it sounds too clean, and the bands mostly were pushed and dressed from their labels. They make photo sessions and music videos and dressed smart..but hmm dont know...not my cup of tea.
The others listen to variouis kind of music...and Oi!;)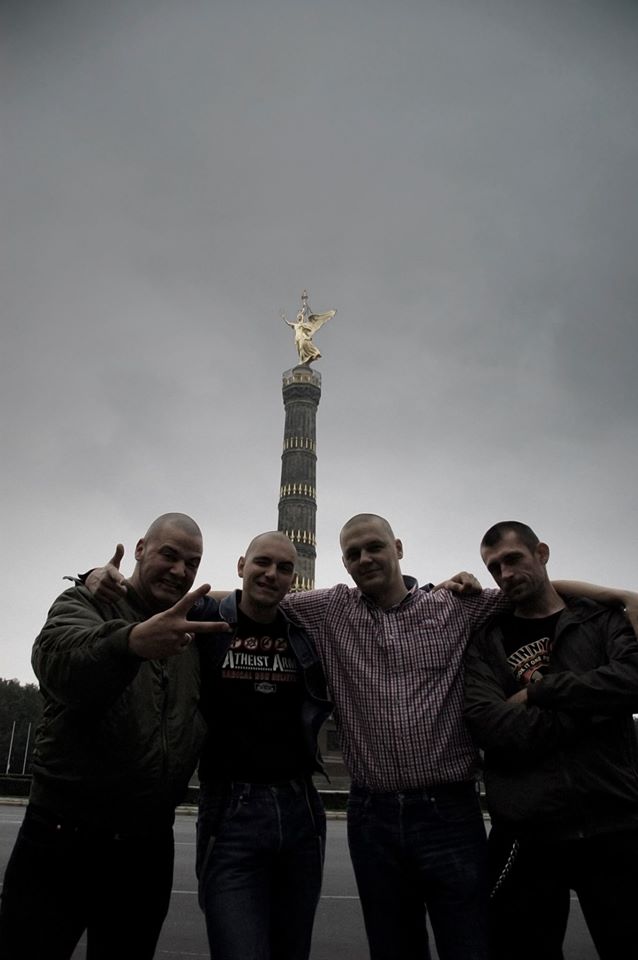 5. Can you introduce your songs to our readers? How would you characterize your style and what are the topics of your songs?
Der Henker: We made rough Skinhead-Rock that you can maybe compare with Combat84 or early 90´s Oi! Bands from Germany and England. I try:
Das Netz vergisst nicht: A song about the fact that every single word and every picture you post on the internet will be there forever..and the internet will never forget.
Der Rubel rollt: It´s about the sell-out in our subculture..."Label-God´s" and "Oi!-Heroes" who forgot what is it all about and for what they stand for. It´s all about the money...expensive shitty beer on their concerts, bands who want to be seperated to the other bands, labels who sqeeze every cent from the scene and bands who have more shirt-motives than songs. If you have money, you are welcome.
Halt Dein Maul: About smartypants who thinking they are always right in what they do or what the say. Shut up you fucking cunt!
Rebellion im Bauch: One Song about three kind o guys everybody knows. A little Punker who bum for money and beer , shouting for anarchy and fetched by his mom after concerts. A "scene-star" who is nothing more than a drug-addict and at least a skinhead who wears united buttons and fight skinheads from other cities. They are all stiffs who dressed as misfits.
Herzlich Willkommen: our welcome song;)
Pfettige Pfanne: Funny song which write our Guitarist when i worked in Berlin in a snack. "Pfettige Pfanne" is an imaginary typically german place were the alcoholics drink they beer and save the world.
Overkill: Against everybody.
Wahre Natur: Some People change their style every year...skinhead, punk, skinhead, rock-a-billie, mod, skinhead..sometimes because they talked too much shit, or just to got something to speak of...you can change everything but not your true nature. And an asshole stays an asshole stays an asshole.
Jagt sie raus: About people who hates our land but live with the benefits, and the deportation of the working man to the outside of the cities to clear the way for students and yuppie-wankers.
Wer richtet über sie?: It´s a cover from the former band from the Folterknecht. One law for them, another law for us.
Du verdienst den Tod: Child-Molester and religious extremists deserve brutal torture and death. Our world wouldn´t be perfect without them, but it would be a safer and nicer place without these fuckers.
6. You live in Berlin but you came from different parts if Germany…can you describe the difference between the scene in big capital and small city? What would you recommend us to see in both cities?
Der Henker: I came from a small Bavarian village near Munich, moved to Berlin and met the others. After 7 or 8 years i moved to Thuringia. The other band members are from Berlin. In my opinion the berlin subculture looks big, but they are separated to each other. One in a hundred can be a good droogie. But i found in Berlin and Brandenburg some of the greatest Guys and are very happy to call them friends. The guys from a little village in Brandenburg for exemple are very familiar, they know each other for many years. So its hard to declare the good and bad sites. Big city= Many people->many posers and idiots, small city= just a few people=great .
7. What about the gigs…do you like playing live and are there any problems for skinhead band to find a place for playing? How often do you play live?
Der Henker: We don´t play very often. We dont want to be on every concert and play every week with this band or that band. The reason is simple. Everyone of us had to work on the weekend, we had kids (not with each other haha) and we don´t want that our concerts getting boring because people see us too often. We play once or twice maybe thrice a year and choose the concerts we really want to play.
In Germany there are some locations were skinhead bands can play for sure. You can´t play in every youth center, but..who wants that?;)
8. Can you recommend us any new breed bands from your area or in general?
Der Henker: New breed Bands in Germany? That´s difficult because most of them sounds like metalbands, looks like scumbags or are designed by their labels..Which new breed bands i can recommend are: Anti-Clockwise, Lost&Found and 4. Division Ostfront. Great Bands and very nice guys..cheers to them. In general you can listen to most of the early 90s Oi! Bands from Germany
9. Where we can order your stuff?
Der Henker: you can order it from us on Facebook, from Shout Proud Records and from Street Justice Records...and from every good mailorder;)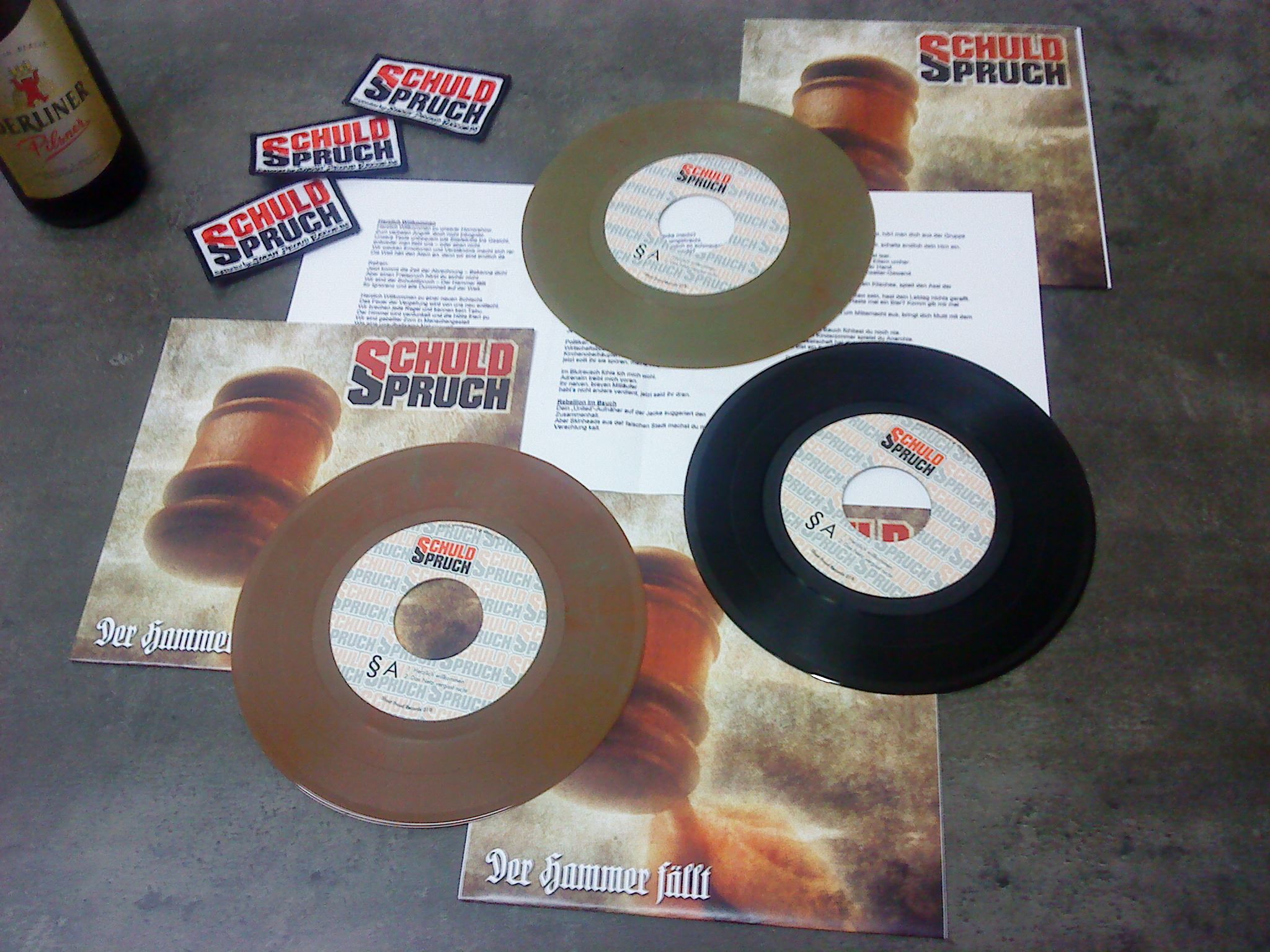 10. Do you know anything about Czech Republic and scene here?
Der Henker: I know Karel Gott ;) Some friends of mine played a few times in Czech Republic and i read some concert reviews from there. And everyone tells the same...the Czech people are crazy, gratefully and very hospitable. But i don´t know much about the scene there...but I really looking forward to play there!
11. Plans for the future…?
Der Henker: Maybe a new album...someday;)
12. Words on the end…
Der Henker: Thanks for you interest to our band and for the interview. See us in Czech Republic! And sorry for my English ;) Cheers to all of you!